Recipes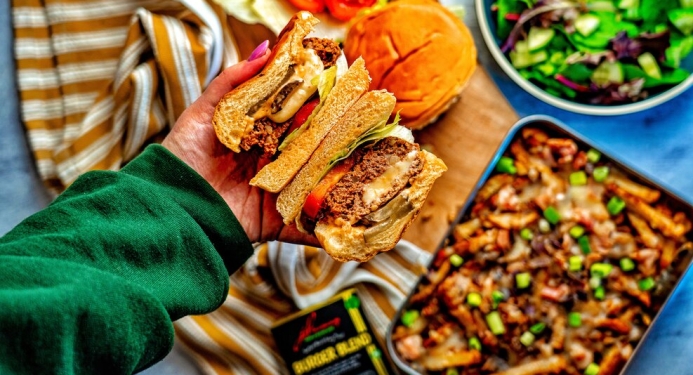 Melt-in-the-Middle Burgers
Prep: 15 mins
Cooking: 20 mins
Total: 35 mins
Serves: 4
Per serving: 462 kcal
Putting cheese in the centre of your burgers takes them to a whole new level – trust us! Our delicious Burger Blend works so well with a gooey, cheesy middle!
Ingredients
1 x Pot of JD Seasonings Burger Blend
500g Lean beef mince
1 x Onion, diced
4 x Brioche burger buns
80g Lettuce, sliced
2 x Tomatoes, sliced
2 x Tbsp burger sauce
60g Mature cheddar, cut into four equal chunks
20g Gherkins, chopped
Low calorie cooking spray
Method
STEP 1:
Mix the mince, onion, Burger Blend and egg until well combined.
STEP 2:
Form into four equal sized balls. Carefully make a hole in each, add one chunk of cheddar to the middle then pinch the mince together around the cheese and mould into a patty shape.
STEP 3:
Fry on both sides in low calorie cooking spray, until cooked through, or grill on the BBQ.
STEP 4:
Fill your brioche buns with the lettuce and tomato. Top with your booked burgers, gherkins and burger sauce.

ENJOY!!!