Recipes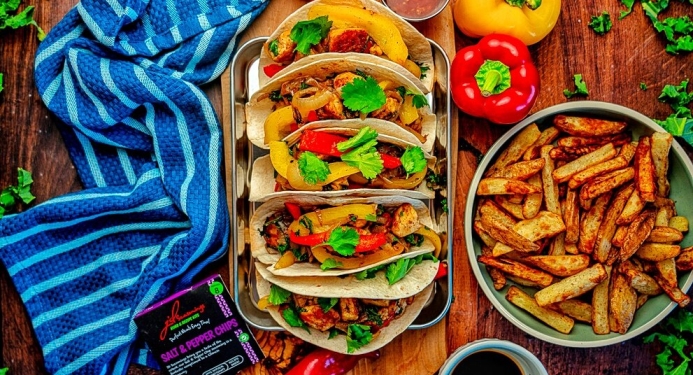 Salt & Pepper Halloumi Tacos
Prep: 10 mins
Cooking: 15 mins
Total: 25 mins
Serves: 4
Per serving: 458 kcal
Our infamous Salt and Pepper Chips rub isn't just for chips – it works perfectly with halloumi and these delicious tacos really showcase how versatile it can be!
Ingredients
200g Reduced fat halloumi
Handful of Kale
4 x Peppers, sliced
1 x Onion, sliced
12 x Mini tortillas
Method
STEP 1:
Dice your halloumi into thick chunks, then coat in the full pot of JD Seasonings Salt and Pepper Chips.
STEP 2:
Add to a frying pan sprayed with low calorie cooking spray along with your sliced peppers and onions, and cook for around 10 minutes, until the halloumi is golden brown on all sides. Add more of our Salt and Pepper Chips rub, if desired.
STEP 3:
Add in your sliced kale and cook for another 3-4 minutes.
STEP 4:
Pile your filling into the tortillas and serve with sweet chilli sauce, if desired.