Recipes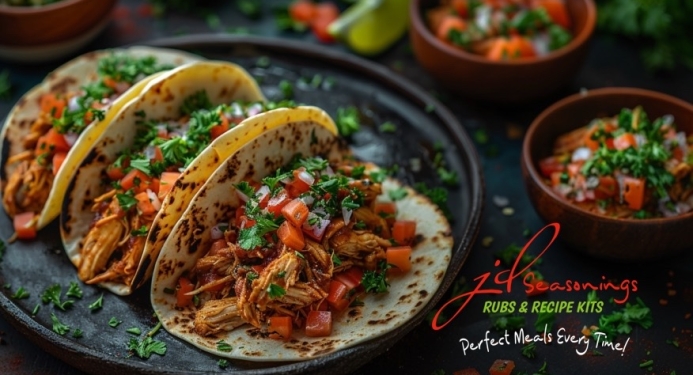 BBQ Pulled Chicken Tacos
Prep: 10 mins
Cooking: 480 mins
Total: 490 mins
Serves: 4
Per serving: 381 kcal
This Tex-Mex fakeaway is really simple to make – we love a recipe where everything is thrown in the slow cooker for a few hours to make hectic life a little bit easier! Our BBQ Rub works fantastically to make this slow-cooked shredded chicken, perfect for crunchy tacos!
Ingredients
1 x Pot of JD Seasonings BBQ Rub
2 x Large chicken breasts
500g Passata
1 x Tbsp tomato puree
1 x Tbsp balsamic vinegar
1 x Splash of Worcestershire sauce
1 x Tbsp sweetener
Crunchy taco shells
Salad and toppings of choice
Method
STEP 1:
Coat the chicken breasts in half a pot of JD Seasonings BBQ Rub.
STEP 2:
Mix the passata, tomato puree, remaining half a pot of JD Seasonings BBQ Rub, sweetener, Worcestershire sauce and balsamic vinegar together and pour over the chicken breasts.
STEP 3:
Cook in the slow-cooker on low for 8 hours.
STEP 4:
Once done, shred the chicken using two forks and combine with the BBQ sauce.
STEP 5
Fill your crunchy taco shells with lettuce, BBQ chicken, sweetcorn, red onion and tomatoes (or other toppings of your choice) and serve with reduced fat sour cream (optional).
ENJOY!!