Recipes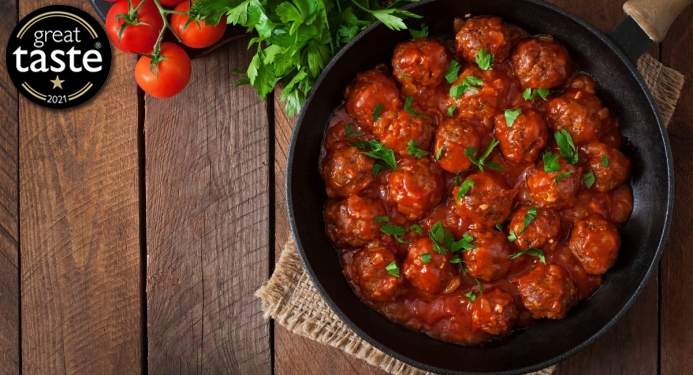 Cajun Meatballs
Prep: 5 Mins
Cooking: 50 Mins
Total: 55 Mins
Serves: 4
This Delicious meal will warm you up on a cold day and will soon become a family favorite.
The Cajun works so well with this dish and flavours both the meatballs and the sauce.
Ingredients
600gm Pork or Beef mince, typically less than 5% fat
1 Onion, peeled and diced.
2 400gm tinned chopped tomatoes, blitzed with a hand blender or food processor.
Low calorie cooking spray
5 or 6 fresh Basil leaves
120gm grated Parmesan cheese
Pasta of your choice, cooked as to packet instructions.
Chopped fresh Parsley to garnish (optional)
Method
STEP 1
Place the minced pork or beef into a large bowl then sprinkle over the full pot of JD Seasonings Cajun blend and mix well until evenly combined.
Using your hands roll the mixture into even size balls (a little smaller than a golf ball)
STEP 2
Spray a large non stick frying pan and place over a low to medium heat then add the meatballs and gently fry until lightly browned all over.


Step 3
Add the onions and fry for a further 3 or 4 minutes then add the blended tinned tomatoes, fill one of the empty tins with water and add this to the pan and mix well, cover and simmer for 30 minutes, stirring occasionally.
STEP 4
Remove the lid then add the fresh Basil leaves and cook for a further 10 minutes or until the sauce has thickened slightly.
STEP 5
Serve with your favorite pasta, sprinkle with Parmesan cheese and garnish with chopped fresh Parsley.