Recipes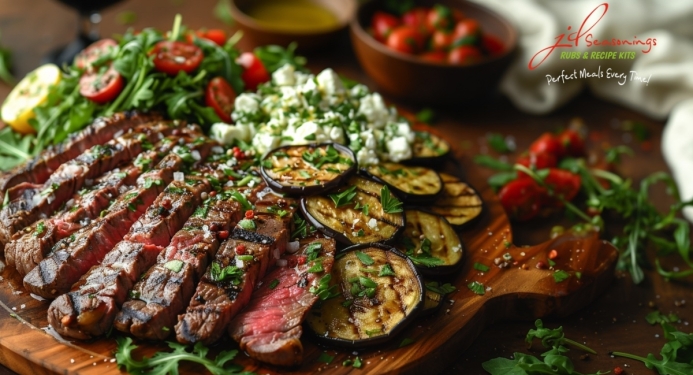 Steak & Aubergine Salad
Prep: 10 mins
Cooking: 10 mins
Total: 20 mins
Serves: 4
Per serving: 355 kcal
We love a Summery salad and this sirloin steak and aubergine combination works beautifully! Using our award-winning Steak Rub for a salad that's nowhere close to boring and ready in just 20 minutes.
Ingredients
2 x Aubergines, peeled and sliced lengthways
2 x Sirloin steaks
Rocket and mixed leaves
60g x Reduced fat feta cheese
Cucumber, chopped
Cherry tomatoes, halved
Red onion, sliced
Balsamic dressing (optional)


Method
STEP 1:
Coat your aubergine slices in half a pot of JD Seasonings steak rub.
STEP 2:
Fry the aubergine in a griddle pan with low calorie cooking spray for about 5 minutes on each side, until softened. Remove from the pan and set aside.
STEP 3:
Cook your steak to your liking in the same pan (we cooked ours medium rare by cooking for 2 minutes on each side).
STEP 4:
Pile your leaves and vegetables into a bowl, top with your aubergine slices, steak, crumbled feta and drizzle with balsamic dressing, if desired.
ENJOY!!