Recipes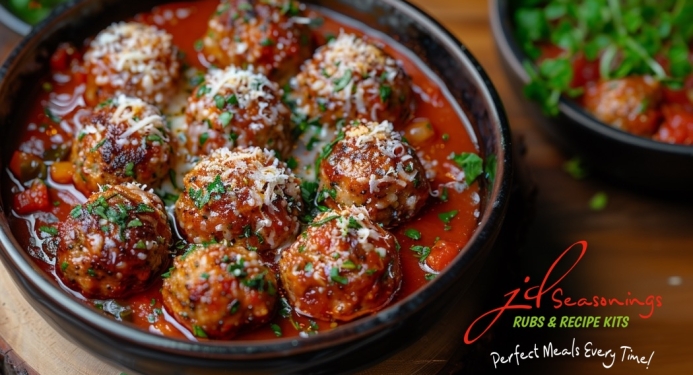 Cheesy Stuffed Meatballs
Prep: 15 mins
Cooking: 25 mins
Total: 40 mins
Serves: 4
Per serving: 277 kcal
Why have regular meatballs when you can throw some cheese in the middle and use our Spaghetti Meatballs kit for these stuffed beauties instead, Served with a chunky tomato sauce? You could pair with pasta; serve in a sub roll or as a tapas dish by themselves – so many options!
Ingredients
1 x Pot of JD Seasonings Spaghetti Meatballs
1/2 x Pot of JD Seasonings Amatriciana Kit
500g Lean beef mince (less than 5% fat)
1 x Onion, diced
4 x Garlic cloves, minced
1 x Tin of chopped tomatoes
80g Reduced fat mozzarella, cut into small chunks
30g Reduced fat cheddar, cut into small chunks
Beaten egg
Parmesan (to serve)
Low calorie cooking spray
Method
STEP 1:
Combine the mince, half the diced onion, full pot of JD Seasonings Spaghetti Meatballs and beaten egg and divide into eight equal portions.
STEP 2:
Form each portion of mince into a rough ball shape. Make an indent in the centre and pop a chunk of each mozzarella and cheddar in the middle, then pinch the edges together and roll back into a ball, making sure no cheese is visible from the outside.
STEP 3:
Spray a tray lined with baking paper with low calorie cooking spray. Put your meatballs onto the tray and bake at 180° for 25-30 minutes, turning halfway through, until the mince has cooked.
STEP 4:
While your meatballs are baking, fry off your minced garlic and the remaining onion in low calorie cooking spray, until softened.
STEP 5:
Add in your chopped tomatoes and half a pot of JD Seasonings Amatriciana kit and simmer for 10-15 minutes, until thickened.
STEP 6:
Pour your sauce into a bowl and top with your cooked meatballs and a little grated parmesan, if desired.
ENJOY!!