Recipes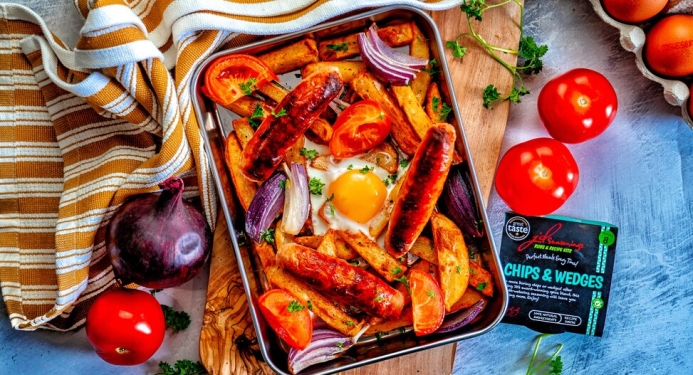 Sausage, Chips & Egg Traybake
Prep: 10 mins
Cooking: 55 mins
Total: 65 mins
Serves: 4
Per serving: 442 kcal
Simple, classic flavours combine in this throw-it-all-together, family-friendly traybake, made with our Chips & Wedges.
Ingredients
1 x Pot JD Seasonings Chips & Wedges
8 x Low fat pork sausages
900g x Potatoes, peeled and sliced into chips
2 x Tomatoes, cut into segments
4 x Eggs
1 x Red onion, roughly chopped
30g x Fresh rocket (to serve)
Low calorie cooking spray
Method
STEP 1:
Firstly, parboil your chips for 2 minutes.
STEP 2:
Drain, then sprinkle over our Chips & Wedges Rub and shake well to coat.
STEP 3:
Tip into an oven-proof dish and add the sausages and red onion.
STEP 4:
Bake for 30 minutes, shaking halfway through.
STEP 5:
Add the tomatoes and shake well again to make sure the sausages have turned.
Return to the oven for 15 minutes.
STEP 6:
Make four wells in the traybake and crack your eggs into them. Bake for a further
4-5 minutes, or until the eggs are cooked to your liking.
STEP 7:
Sprinkle over the fresh rocket ad serve.
ENJOY!!