Recipes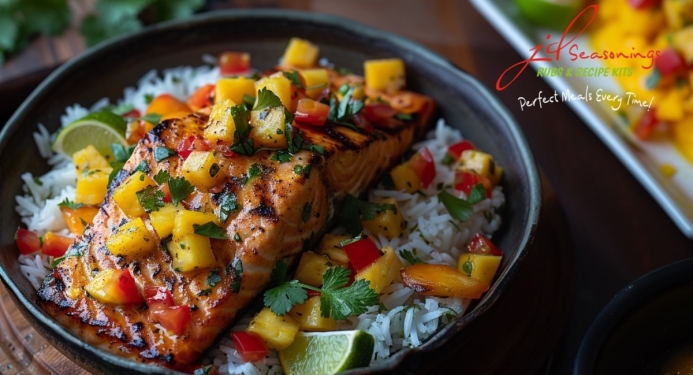 Jerk Salmon with Mango & Pineapple Salsa
Prep: 10 mins
Cooking: 20 mins
Total: 30 mins
Serves: 4
Per serving: 352 kcal
Our Jamaican Jerk seasoning takes a plain salmon fillet to a whole new level, especially paired with a light & zingy mango and pineapple salsa. This is definitely one to try!
Ingredients
1 x Pot of JD Seasonings Jamaican Jerk Rub
4 x Salmon fillets1x Mango, chopped
1 x Pineapple, chopped
1 x Red onion, diced
1 x Lime (juice)
1 x Tbsp of honey
1 x Tsp of brown sugar
Method
StTEP 1:
Mix the honey, brown sugar and the full pot of JD Seasonings AWARD WINNING Jamaican Jerk seasoning well.
STEP 2:
Place your salmon fillets into an oven-proof dish, add your red onion, mango and pineapple and squeeze over the juice of one lime.
STEP 3:
Drizzle your Jamaican glaze over the salmon fillets, pop into the oven and bake at 180° for 20-25 minutes, until the salmon has cooked through.
STEP 4:
Serve with a green salad or rice and peas, depending on what you fancy!