Recipes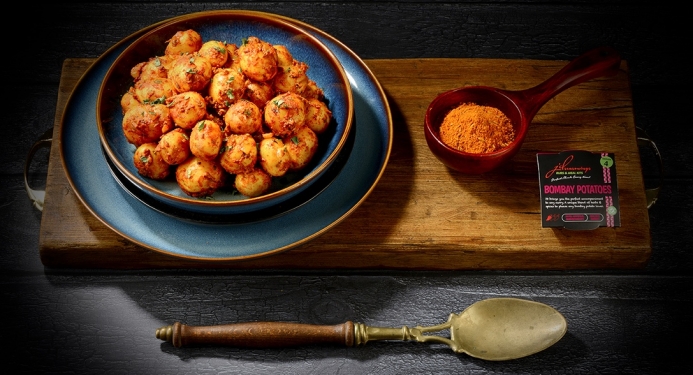 Bombay Potatoes
Prep: 5 mins
Cooking: 25 mins
Total: 30 mins
Serves: 4
Our bombay potatoes are the perfect accompaniment to any curry. Our unique blend of mustard seeds, Paprika, Turmeric, Ground cumin, Cumin seeds, Fennel seeds, Coriander, Chilli powder. This is a dry version of the classic side dish but can easily be made into a saucy potato curry.
Ingredients
700gm potatoes, peeled and cut into 1″ cubes
1/2 an onion, peeled and roughly chopped
3 garlic cloves, peeled and crushed
1″ cube ginger, peeled and grated
1 tbsp tomato puree
1 tbsp water
Juice of 1/2 a lemon
Low calorie cooking spray
Fresh coriander to serve (optional)
Method
STEP 1:
Par boil potatoes in lightly salted water until slightly tender, drain and set aside.
STEP 2:
Spray a large frying pan with low calorie cooking spray and place over a low – medium heat. Add the onions and gently fry until starting to brown then add the garlic and ginger and cook for another 1 min.
STEP 3:
Add the pot of JD's bombay potatoes, mix with the onions, garlic and ginger then add the potatoes, mix to coat well.
STEP 4:
Add the tomato puree, water and lemon juice and cook for 5 – 7 mins mixing often.
STEP 5:
Serve and garnish with fresh coriander.
ENJOY!