Recipes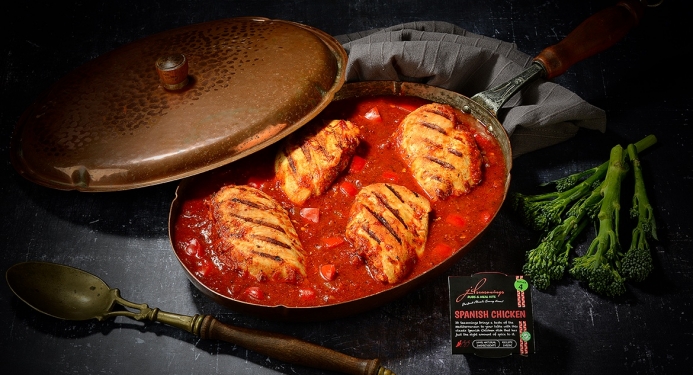 Spanish Chicken
Prep: 5 mins
Cooking: 45 mins
Total: 50 mins
Serves: 4
Bring a taste of the Mediterranean to your table with this classic Spanish chicken dish that has just the right amount of spice to it.
Ingredients
1 pot of JD Seasonings Spanish Chicken
4 Chicken breasts, all fat removed
1 medium sized white onion, peeled and sliced
1/2 a red pepper, deseeded and sliced
400g tinned chopped tomatoes, blitzed with a hand blender or food processor
400ml vegetable stock, hot
1 tbsp Worcestershire sauce
Low calorie cooking spray
Method
Preheat oven to 200.c / gas mark 6
STEP 1
Spray a large frying pan with low calorie cooking spray and place over a medium heat.
Add the onions and gently fry for 3 to 4 minutes or until lightly browned.
STEP 2
Add the peppers and fry for 2 minutes then add the chicken breasts and continue to cook until the chicken breasts are browned on both sides.
STEP 3
Transfer the chicken, peppers and onions to a ovenproof dish then add the blitzed tomatoes, Worcestershire sauce, full pot of JD Seasonings Spanish chicken and the veg stock, mix well, cover and cook in the center of the oven for 30 minutes.
Step 4
Remove from the oven then carefully remove the lid, stir well and place back in the oven without the lid and cook for a further 10 - 15 minutes or until the sauce has thickened.
Serve with mashed potatoes, roast potatoes or rice and seasonal veg.