Recipes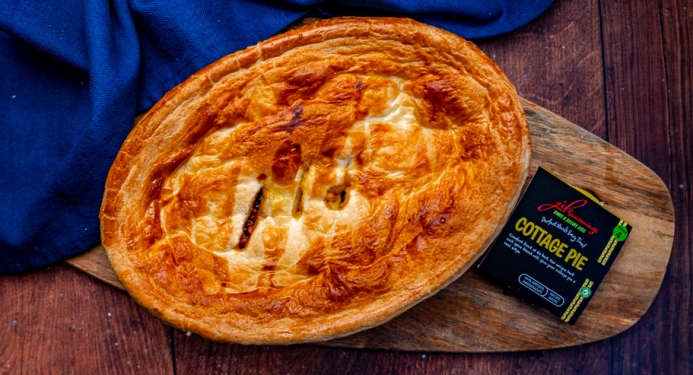 Cottage Pot Pie
Prep: 10 mins
Cooking: 145 mins
Total: 15 mins
Serves: 4
Per serving: 551 kcal
Top your cottage pie with puff pastry instead of mash for a delicious, veg packed
pot pie, made with our Cottage
Pie Kit
Ingredients
1 x Pot of JD Seasonings Cottage Pie
375g x Lighter puff pastry
500g x Lean beef mince
1 x Onion, diced
1 x Tbsp tomato puree
1 x Tin of chopped tomatoes
1 x Tbsp Worcestershire sauce
1 x Large carrot, peeled and diced
1 x Celery stalk, chopped
80g x Frozen peas
1 x Leek, sliced
850ml Beef stock
1 x Beaten egg
Low calorie cooking spray
Method
STEP 1:
Pan-fry the onion and mince in low calorie cooking spray for 15 minutes, until well
browned.
STEP 2:
Add in the carrot and celery and cook for a further 10 minutes.
STEP 3:
Add the sliced leek and our Cottage Pie Kit and combine.
STEP 4:
Pour in
the chopped tomatoes, tomato puree, Worcestershire sauce and stock and
mix well, then simmer for 45 minutes.
STEP 5:
Add the peas to the cottage
pie mixture and combine, then transfer to an oven-proof dish.
STEP 6:
Top with the puff pastry and crimp the edges with a fork before making a few small
incisions in the centre.
STEP 7:
Brush with egg wash and bake for 20-25 minutes, until golden.
ENJOY!!