Recipes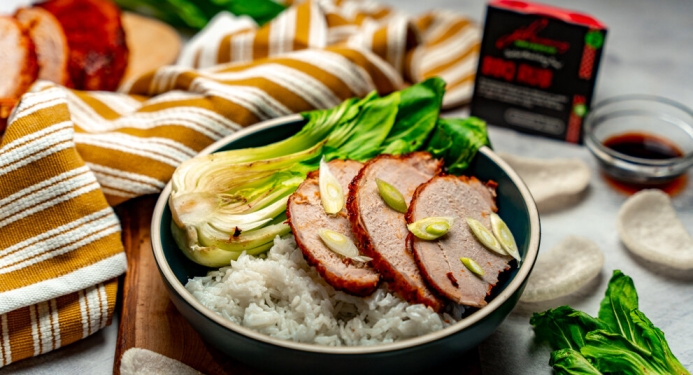 BBQ Char Sui Pork
Prep: 485 mins
Cooking: 70 mins
Total: 555 mins
Serves: 4
Per serving: 399 kcal
A Chinese-classic, this dish combines our BBQ Rub with a sticky marinade to make delicious BBQ Char Sui Pork.
Ingredients
1 x Pot of JD Seasonings BBQ Rub
2kg x Pork loin joint
2 x Tbsp honey
1 x Tbsp hoisin sauce
½ x Tsp sesame oil
3 x Garlic cloves, crushed
2 x Tbsp dark soy sauce
50g x Sugar
100ml x Hot water
Method
STEP 1:
Combine the BBQ Rub, sesame oil, hoisin sauce, garlic, soy sauce and sugar to make your marinade.
STEP 2:
Slice your pork into approx. 3 inch wide strips and cover in the marinade, saving around 2 tablespoons.
STEP 3:
Refrigerate for a minimum of 8 hours.
STEP 4:
Place the pork onto a metal rack with a pan lined with foil beneath. Add a couple of tablespoons of water to the pan.
STEP 5:
Cook at 200° for 10 minutes, reduce to 180° and cook for a further 15 minutes.
STEP 6:
Turn the pork over and roast for a further 15 minutes, checking every 10 minutes or so.
STEP 7:
Add the honey and hot water to your reserved marinade and use it to glaze the pork on both sides until well coated.
STEP 8:
Cook for a final 10-15 minutes, and set aside to rest for 10 minute before cutting into thin slices.
STEP 9:
Serve with the sides of your choosing and…
ENJOY!!!