Recipes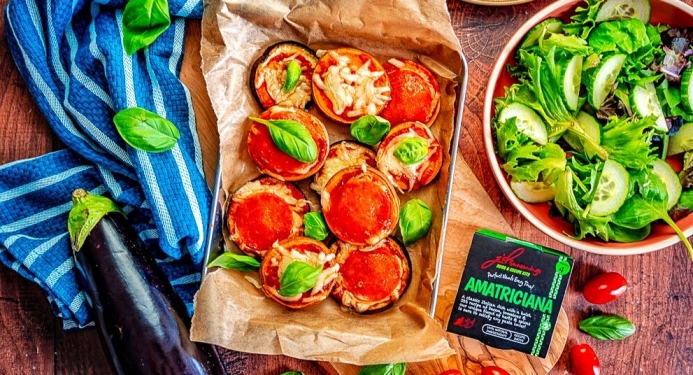 Pizza Bites
Prep: 10 mins
Cooking: 25 mins
Total: 35 mins
Serves: 4
Per serving: 352 kcal
Fancy a pizza but don't want to use most of your daily calorie allowance on one meal? These pizza bites are a great way to curb that craving! They're insanely tasty and make a great light lunch, snack or even a side if you're hosting a BBQ! Using our Amatriciana kit, which makes a fantastic pizza sauce, if we do say so ourselves! You can also leave out the pepperoni for a veggie margarita version, and skip the sweet potato if you're looking for a low carb alternative.
Ingredients
1 x Pot of JD Seasonings Amatriciana kit
4 x Sweet potatoes, sliced across
2 x Courgettez, sliced across
Pepperoni slices
2 x Tbsp of tomato puree
2 x Tbsp of passata
Splash of balsamic vinegar
1 X Tsp Sweetener
120g Grated mozzarella
Fresh basil (optional)
Method
STEP 1:
Pop your veg onto a baking tray or oven-proof dish and spray with low calorie cooking spray. Bake at 180° for 10 minutes, flip over and return to the oven for another 5 minutes.
STEP 2:
Meanwhile, mix your tomato puree, passata, balsamic vinegar, sweetener and JD Seasonings Amatriciana kit together.
STEP 3:
Spoon your pizza sauce on to your veggies. Sprinkle over the grated mozzarella, top with sliced pepperoni if desired and return to the oven for another 5-10 minutes, until the cheese has melted.
STEP 4:
Add some fresh basil and serve!
ENJOY!!