Recipes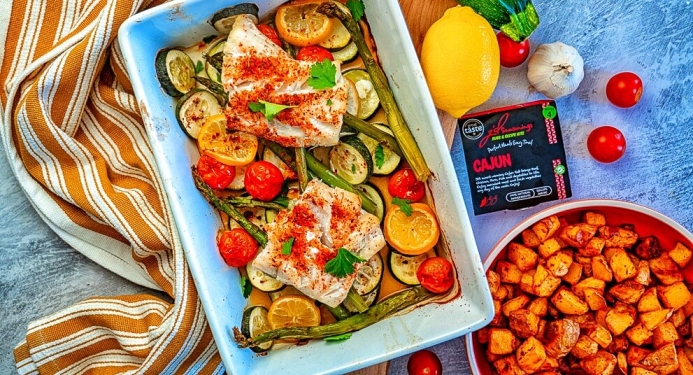 Baked Cajun Cod
Prep: 10 mins
Cooking: 40 mins
Total: 50 mins
Serves: 4
Per serving: 178 kcal
Such an easy way of adding flavour, made with our Cajun rub, this Baked Cajun Cod recipe is simple to make and full of colourful vegetables – ideal for a low calorie weeknight dinner.
Ingredients
1 x Courgette, sliced
Handful of cherry tomatoes
4 x Boneless cod fillets
1 x Bunch of asparagus
4 x Garlic cloves, minced
1 x Lemon, sliced
Method
STEP 1:
Prep your veg and pop into an oven-proof dish. Add some of the lemon slices, spray with low calorie cooking spray, and bake for 20 minutes.
STEP 2:
Meanwhile, coat your cod in a full pot of JD Seasonings Cajun Rub.
STEP 3:
Toss your veg and spray again with low calorie cooking spray. Place your cod fillets on top, along with another couple of lemon slices, and bake for another 18-20 minutes, until the fish has cooked through.
STEP 4:
Serve as is or with rice or potatoes for a filling dinner.
ENJOY!!