Recipes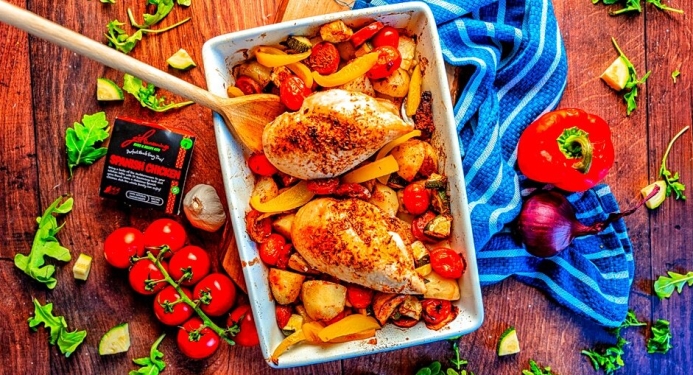 Spanish Chicken & Chorizo Traybake
Prep: 10 mins
Cooking: 65 mins
Total: 75 mins
Serves: 4
Per serving: 430 kcal
Traybakes are perfect for a busy weeknight dinner, especially if you're not a fan of doing the dishes! We've used our Spanish Chicken kit to pack this dish with flavour.
Ingredients
1 x Pot of JD Seasonings Spanish Chicken Kit
1 x Red Pepper, cut into thin strips
We 100g Baby plum tomatoes
1 x Courgette, sliced and then quartered
4 x Chicken breasts
100g Chorizo, thinly sliced
500g Small potatoes, peeled and quartered
We 1 x Red onion, roughly chopped
6 x Garlic cloves, left whole
Low calorie cooking spray
Method
STEP 1:
In an oven-proof dish or baking tray, add the red onion, garlic cloves and potatoes. Spray with low calorie cooking spray and bake at 180° for 20 minutes.
STEP 2:
Shake well, add the tomatoes, courgette and chorizo, spray with more low calorie cooking spray and sprinkle with ¾ of the Spanish Chicken kit.
STEP 3:
Place the chicken breasts on top with the remaining Spanish Chicken kit and return to the oven for 20 minutes.
STEP 4:
Add the sliced peppers and bake for a further 20-25 minutes, until the chicken is cooked through and peppers have softened.

ENJOY!!!