Recipes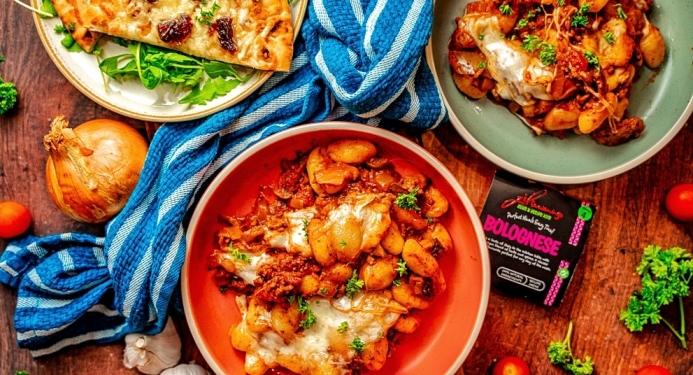 Bolognese Gnocchi Bake
Prep: 5 mins
Cooking: 30 mins
Total: 35 mins
Serves: 4
Per serving: 560 kcal
Pure comfort food, our Bolognese Gnocchi Bake is an absolute must for Autumn! Made with our Bolognese kit, this recipe is a must-try!
Ingredients
1 x Pot of JD Seasonings Bolognese Kit
500g Lean beef mince
800g Gnocchi
1 x Red pepper, diced
120g Low fat mozzarella
500g Passata
400g Chopped Tomatoes
1 x Tbsp sweetener
1 x Tsp balsamic vinegar
1 x Tsp Worcestershire sauce
1 x Beef stock cube
100g Mushrooms, sliced
1 x Onion, diced
4 x Garlic cloves, crushed
Low Calorie cooking spray
Method
STEP 1:
Spray a pan with low calorie cooking spray and fry the garlic and onion for 3-5 minutes, until softened.
STEP 2:
Add your lean beef mince and fry for 5-10 minutes, until browned.
STEP 3:
Next, add your sliced mushrooms and continue to fry for a further 5 minutes.
STEP 4:
Add the red pepper and mix well, before sprinkling in the Bolognese kit. Combine with the mince, then add in the balsamic vinegar and Worcestershire sauce.
STEP 5:
Pour in your chopped tomatoes and passata and throw in the beef stock cube and sweetener. Mix together and simmer for 1 hour.
STEP 6:
Meanwhile, boil your gnocchi for 3 minutes, until it starts to float.
STEP 7:
Combine the bolognese and gnocchi together and transfer to an oven-proof dish.
STEP 8:
Roughly tear the mozzarella and place on top of your gnocchi. Pop under the grill for 5-10 minutes, until the cheese has melted, and serve.

ENJOY!!!