Recipes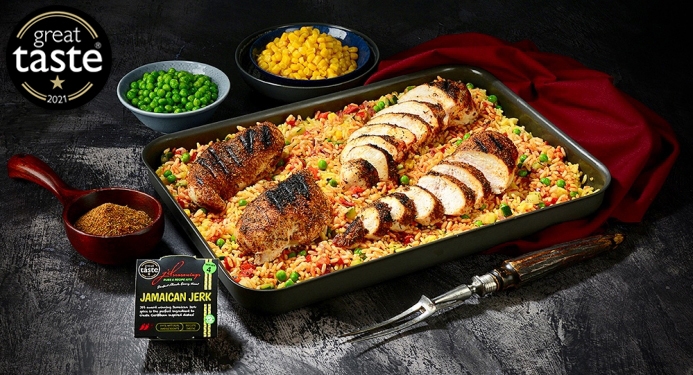 Jamaican Jerk Chicken
Prep: 5 mins
Cooking: 11 mins
Total: 16 mins
Serves: 4
A Jamaican Jerk chicken dish that's quick, easy and possesses a bit of a kick. Served with rice and peas.
Ingredients
4 chicken breasts – all fat removed
360g Basmati rice
150g peas
1 x lime
Low calorie cooking spray
Method
STEP 1:
Place the chicken breasts on a chopping board, cover with a piece of cling film and lightly beat flat with a wooden mallet or rolling pin.
STEP 2:
Remove cling film, place the chicken breasts in a large bowl and pour over 1/2 a pot of JD's Jamaican jerk.
STEP 3:
Turn the chicken over and pour over the remainder of the pot, toss and turn the chicken to coat evenly.
STEP 4:
Spray a griddle pan or non stick frying pan with low calorie cooking spray and place over a medium heat. Place the chicken smooth side down and cook for 4-5 mins.
STEP 5:
Turn the chicken over and cook for a further 6 minutes or until cooked through.
STEP 6:
Meanwhile, cook rice as to packet instructions, 5 minutes before the rice is ready add the peas, mix, drain and serve with the chicken.
ENJOY!