Recipes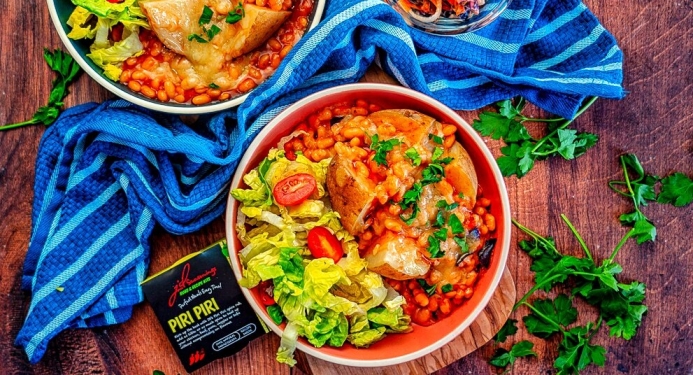 Piri Piri Cheesy Bean Jacket
Prep: 5 mins
Cooking: 70 mins
Total: 75 mins
Serves: 4
Per serving: 522 kcal
Spice up a standard lunch with our Piri Piri Rub and this delicious piri piri cheesy bean jacket recipe.
Ingredients
1 x Pot of JD Seasonings Piri Piri Rub
2 x Tins of baked beans
4 x Baking potatoes
1 x Red onion, diced
80g Reduced fat cheddar
Method
STEP 1:
Pierce your baking potatoes, spray with low calorie cooking spray and bake for around 60 minutes at 180°.
STEP 2:
While your potatoes are cooking, fry off the red onion in low calorie cooking spray, stir in the baked beans and our piri piri rub, and simmer for around 5 minutes, until cooked.
Once your baked potatoes are done, remove from the oven and let cool for a few minutes before slicing and filling with the piri piri beans.
STEP 4:
Top your potatoes with the cheddar and return to the oven for 5 minutes, to melt the cheese.
STEP 5:
Serve with salad
ENJOY!!