Recipes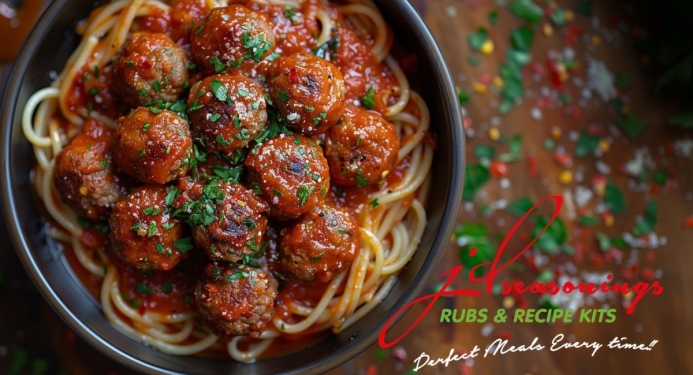 Spaghetti Meatballs
Prep: 10 mins
Cooking: 40 mins
Total: 50 mins
Serves: 4
Perfect Spaghetti meatballs and Napoli sauce every time.
This classic Italian-American dish is perfect with pasta, rice or in a sub roll with some melted cheese.
Ingredients
500g minced pork or beef typically less than 5% fat ( we recommend pork for a lighter meatball )
1/2 x onion
2 x 400g tinned tomatoes
400ml vegetable stock
500g dried spaghetti
Low calorie cooking spray
4 - 5 fresh basil leaves
Method
STEP 1:
Place the mince meat into a large bowl and sprinkle in the pot of JD Seasonings spaghetti meatballs and mix well then hand roll into 16 to 18 balls.
Step ":
Spray a frying pan with low calorie cooking and place over a medium heat then add the meatballs and gently fry until lightly browned all over then remove and set aside.
STEP 3:
Spray a large pan with a lid with low calorie cooking and place over a medium heat, add the onions and cook until softened then add the meatballs and mix well.
Now pour in the stock and the tomatoes, turn the heat up and bring to the boil, cover and simmer for 15 to 20 minutes stirring occasionally.
STEP 4:
Remove the lid, add the fresh basil and cook for a further 10 to 15 minutes or until the sauce thickens.
STEP 5:
Cook the spaghetti to packet instructions, serve into bowls and top with the meatballs and sauce.
Enjoy !!
JD Seasoings