Recipes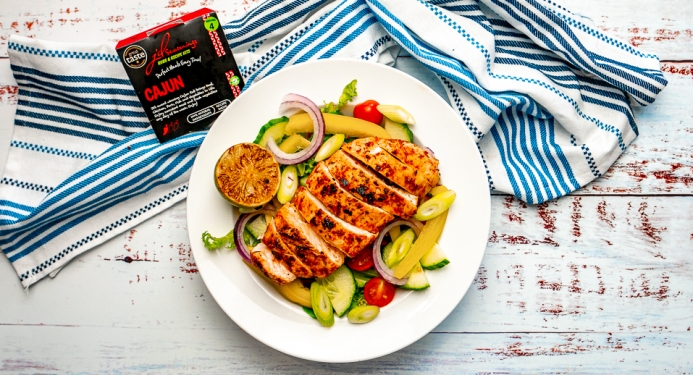 Cajun Chicken Salad
Prep: 10 mins
Cooking: 20 mins
Total: 30 mins
Serves: 4
Per serving: 208 kcal
Our Cajun Rub transforms this plain chicken salad into a healthy, low calorie lunch bursting with flavour.
Ingredients
1 x Pot of JD Seasonings Cajun Rub
4 x Chicken breasts
300g Mixed leaf salad
100g Cucumber, chopped
80g Cherry tomatoes, halved
1 x Red onion, sliced
1 x Yellow pepper, sliced
2 x Spring onion, sliced
1 x Lime (juice)
Method
STEP 1:
Pile your salad into a bowl.
STEP 2:
Pop the chicken breasts, lime juice and Cajun Rub into a sealable bag and shake until the chicken is coated.
STEP 3:
Pan-fry the chicken breasts for around 8 minutes on each side, until cooked through.
STEP 5:
Add to your salad, along with any dressings of your choice, and enjoy!