Recipes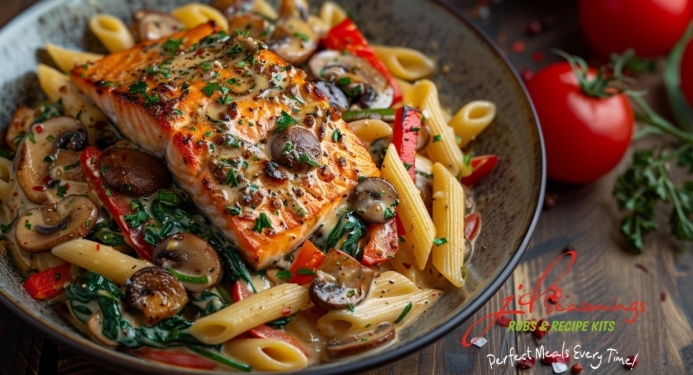 Creamy Cajun Salmon Pasta
Prep: 10 mins
Cooking: 30 mins
Total: 40 mins
Serves: 4
Per serving: 574 kcal
Pack your pasta with flavour using our Cajun Rub with this Creamy Cajun Salmon Pasta – a winner for the whole family and so simple to make, this might just become a regular on your meal plan!
Ingredients
1 x Pot of JD Seasonings Cajun Rub
4 x Boneless salmon fillets
300g Penne pasta (uncooked)
1 x Tbsp tomato puree
300ml Vegetable stock
1 x Onion, diced
70g Closed cup mushrooms, sliced
1 x Red pepper, diced
100g Reduced fat cream cheese
4 x Garlic cloves, crushed
25g Baby leaf spinach
Low calorie cooking spray
Method
STEP 1:
Fry the onion, garlic and mushrooms in low calorie cooking spray.
STEP 2:
Add in the pepper and ¾ of our Cajun Rub. Mix well and fry for another few minutes.
STEP 3:
Pour in the vegetable stock and tomato puree. Add in the spinach leaves, combine and leave to simmer for around 20 minutes, until the liquid has reduced and spinach has wilted. Meanwhile, boil your pasta.
STEP 4:
Reduce to a low heat and stir in the cream cheese until you have a creamy sauce.
STEP 5:
Combine with the cooked pasta.
STEP 6:
Sprinkle your salmon fillets with the remaining Cajun Rub and pan-fry for around 3 & ½ minutes on each side until cooked through.
STEP 7:
Top your pasta with the salmon fillets and serve.
ENJOY!!