Recipes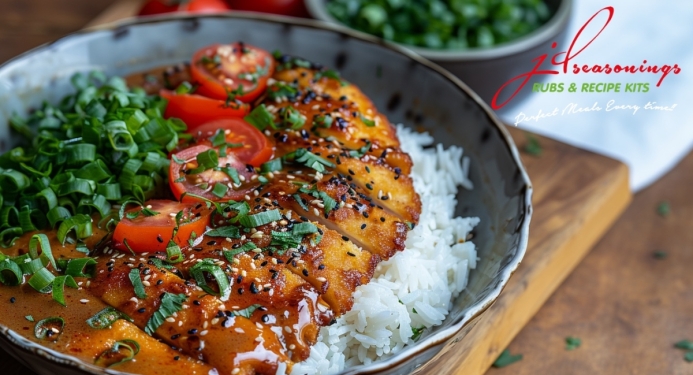 Chicken Katsu Curry
Prep: 15 mins
Cooking: 45 mins
Total: 60 mins
Serves: 4
Per serving: 570 kcal
With a gorgeous katsu curry sauce, made with our Chinese-style Curry Kit, and crispy breaded chicken breasts, made with our award-winning Chicken Rub, this is a fakeaway the whole family will love.
Ingredients
1 x Pot of JD Seasonings Chinese Chicken Curry
1 x Pot of JD Seasonings Chicken Rub
4 x Chicken breasts
1 x Onion, diced
2 x Large carrots, diced
500ml Vegetable stock
2 x Spring onion, sliced
2 x Boil-in-the-bag basmati rice
100g Cucumber, thinly sliced
60g Breadcrumbs
1 x Lime (juice)
2 x Tbsp maple syrup
Handful of fresh coriander (optional)
1 x Medium egg, beaten
3 x Garlic cloves, crushed

1 x Tsp minced ginger
Low calorie cooking spray
Method
STEP 1:
Fry the onion and carrot for around 8 minutes.
STEP 2:
Add in the ginger and garlic and fry for another 2 minutes before stirring in the Chinese-style curry kit until the veg is completely coated.
STEP 3:
Add the stock, lime juice and maple syrup. Remove from the heat and blitz with a hand-blender until smooth.
STEP 4:
For the chicken, first mix the breadcrumbs and Chicken Rub together.
STEP 5:
Dip the chicken breasts in the beaten egg then coat in the breadcrumb mixture.
STEP 6:
Bake at 200° for 25 minutes, or air-fry for 20 minutes, until the chicken is cooked through. Meanwhile, boil your rice.
STEP 7:
Pour the curry sauce into your dish, top with the chicken, rice, and sprinkle over the coriander and spring onion.

ENJOY!!!