Recipes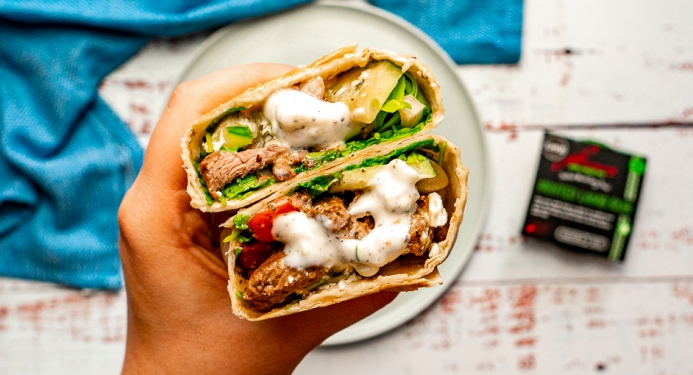 Minted Lamb and Feta Wraps
Prep: 5 mins
Cooking: 20 mins
Total: 25 mins
Serves: 4
Per serving: 365 kcal
Treat yourself to a little Greek-themed fakeaway with these summery wraps, made with our Minted Lamb Rub. Great for a light lunch or add chips and salad for a filling dinner.
Ingredients
1 x Pot of JD Seasonings Minted Lamb Rub
375g Diced lamb
60g Reduced fat feta, crumbled
1 x Red onion, chopped
80g Cucumber, halved
20g Cucumber, diced
125g Fat free greek yoghurt
100g Rocket
80g Baby plum tomatoes, chopped
4 x Tortilla wraps
Low calorie cooking spray
Method
STEP 1:
Coat the diced lamb in ¾ of the Minted Lamb Rub.
STEP 2:
Fry in low calorie cooking spray for 15 minutes, until cooked through.
STEP 3:
Fill the wraps with the rocket, cucumber, tomatoes, red onion, cooked lamb and feta.
STEP 4:
Mix the yoghurt with the diced cucumber and remaining Minted Lamb Rub. Drizzle over the lamb and salad.
STEP 5:
Carefully fold the edges and wrap, then place into a hot pan to seal the edges. Cook on both sides for around 3 minutes each, and serve.
ENJOY!!