Recipes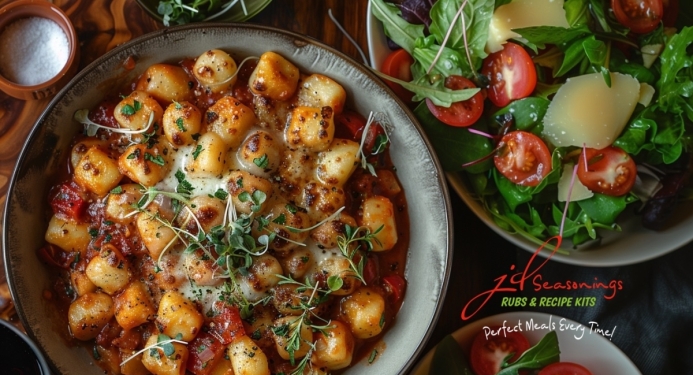 Tomato & Mozzarella Gnocchi
Prep: 10 mins
Cooking: 20 mins
Total: 30 mins
Serves: 4
Per serving: 403 kcal
Such a quick and simple meat-free dinner – you've got to love cheese and pasta together and this recipe, made with our Amatriciana Kit, is full of both.
Ingredients
1 x Pot of JD Seasonings Amatriciana
400g Passata
800g Gnocchi
1 x Onion, diced
3 x Garlic cloves, crushed
100g Cherry tomatoes, halved
150g Reduced fat mozzarella
60g Parmesan
Fresh basil (optional)
Low calorie cooking spray
Method
STEP 1:
Fry the onion and garlic in low calorie cooking spray for 5 minutes, until softened.
STEP 2:
Add the tomatoes and Amatriciana Kit and mix well.
STEP 3:
Next, pour in the passata and simmer for 10 minutes, until thickened.
STEP 4:
While the tomato sauce is simmering, boil your gnocchi for 3 minutes, until cooked.
STEP 5:
Combine the gnocchi and tomato sauce and pop into an oven-proof dish.
STEP 6:
Top with the mozzarella and parmesan and bake for 15 minutes, until the cheese has melted. Sprinkle over the basil and serve.

ENJOY!!!