Recipes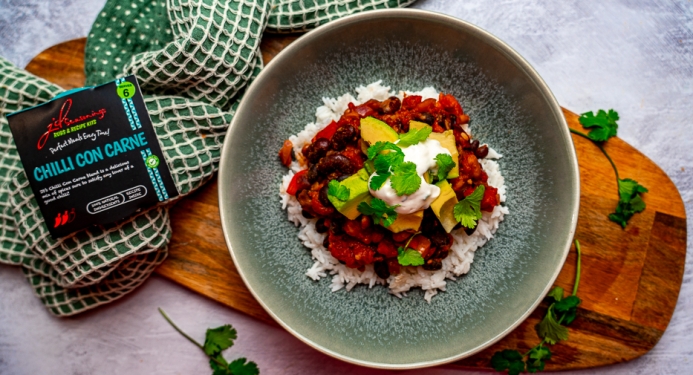 Smokey Bean Chilli
Prep: 10 mins
Cooking: 30 mins
Total: 40 mins
Serves: 4
Per serving: 593 kcal
This delicious, rich and smokey chilli is vegan-friendly (when leaving out the sour cream), full of goodness and ridiculously tasty! Made with our chilli con carne kit.
Ingredients
1 x Pot of JD Seasonings Chilli Con Carne Kit
1 x Tin of chopped tomatoes
250ml Vegetable stock
1 x Tin of pinto beans, drained
1 x Tin of kidney beans, drained
1 x Tin of black beans, drained
100g Mushrooms, sliced
1 x Red onion, diced
3 x Garlic cloves, crushed
1 x Tsp chipotle paste
1 x Red pepper, diced
1 x Avocado, cut into chunks
4 x Tbsp reduced fat sour cream (optional – remove if keeping the recipe vegan friendly)
Fresh coriander (optional, to serve)
Low calorie cooking spray
300g Basmati rice (uncooked)
Method
STEP 1:
In low calorie cooking spray, fry the garlic and red onion for 3 minutes.
STEP 2:
Add the mushrooms and cook for another 3 minutes.
STEP 3:
Next, add the red pepper and cook for 2 minutes.
STEP 4:
Stir in the chipotle paste, then sprinkle over the Chilli Con Carne Kit and mix well.
STEP 5:
Add all the beans and stir to ensure everything is coated in the seasoning.
STEP 7:
Next, pour in the chopped tomatoes and stock. Simmer for 15-20 minutes, until thickened.
STEP 8:
Meanwhile, cook your rice according to the packet instructions.
STEP 9:
Spoon the cooked chilli over your rice. Top with the avocado chunks, a dollop of sour cream (optional) and fresh coriander.
ENJOY!!