Recipes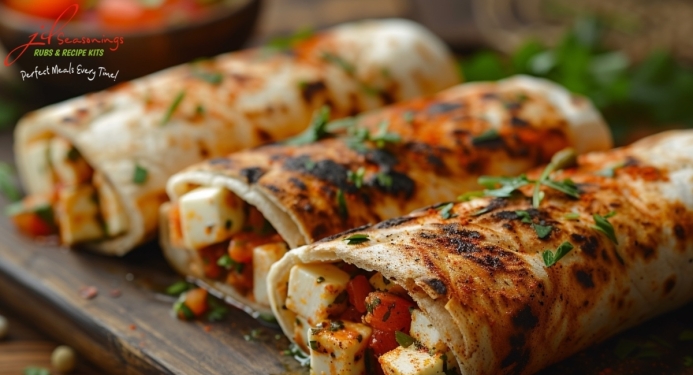 Minted Halloumi, Tzatiki & Feta Wrap
Prep: 10 mins
Cooking: 15 mins
Total: 25 mins
Serves: 4
Per serving: 389 kcal
A lovely light lunch option, especially with our homemade tzatiki and minted halloumi, made with our Pea & Mint Risotto Kit.
Ingredients
1 x Pot of JD Seasonings Pea & Mint Risotto Kit
200g Reduced fat halloumi
60g Reduced fat feta
5 x Tbsp fat free greek yoghurt
4x Tortilla wraps
60g Rocket or mixed leaves
100g Cucumber, chopped
50g Cucumber, finely diced
1x Red onion, sliced
Low calorie cooking spray
Method
STEP 1:
Sprinkle your halloumi with the full pot of JD Seasonings Pea & Mint Risotto and fry in a griddle-pan on both sides, using low calorie cooking spray, until golden.
STEP 2:
Meanwhile, make your tzatiki by mixing the fat free greek yoghurt with finely diced cucumber and more of our Pea & Mint Risotto kit.
STEP 3:
Layer your wraps with the rocket, chopped cucumber, sliced red onion, cooked halloumi, crumbled feta and a drizzle of tzatiki.
STEP 4: (Optional)
You can wrap up and use a frying pan to toast and seal the edges together, if desired.
ENJOY!!