Recipes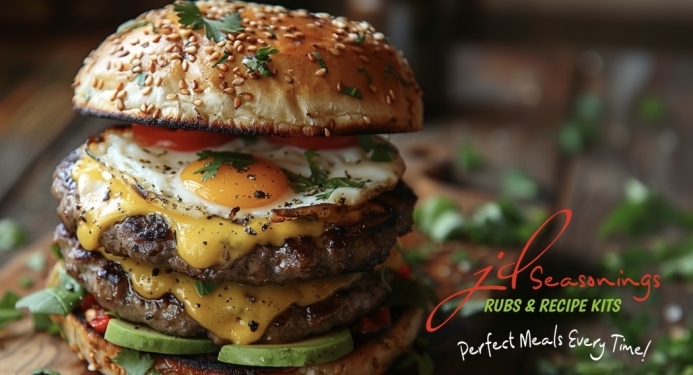 Breakfast Burgers
Prep: 10 mins
Cooking: 25 mins
Total: 35 mins
Serves: 4
Per serving: 629 kcal
Burgers that you can have for breakfast, lunch or dinner? Sign us up! Made with our delicious Burger Blend.
Ingredients
1 x Pot of JD Seasonings Burger Blend
400g Lean beef mince (less than 5% fat)
4 x Brioche buns
4 x Eggs
4 x Rashers of unsmoked bacon
2 x Ripe avocados
4 x Reduced fat cheese slices
Low calorie cooking spray
Method
STEP 1:
Combine the mince and Burger Blend and split into four equal amounts.
STEP 2:
Form into burger patties and pan-fry in low calorie cooking spray, on both sides, until cooked through (around 15 minutes).
STEP 3:
Meanwhile, carefully slice your avocado and smash.
STEP 4:
Add your bacon to the pan with your burgers and fry until cooked to your liking.
STEP 5:
While your meat is cooking, fry your eggs in a separate pan.
STEP 6:
Layer up your burgers with the avocado, bacon, eggs, burger patties and cheese, and serve.

ENJOY!!!