Recipes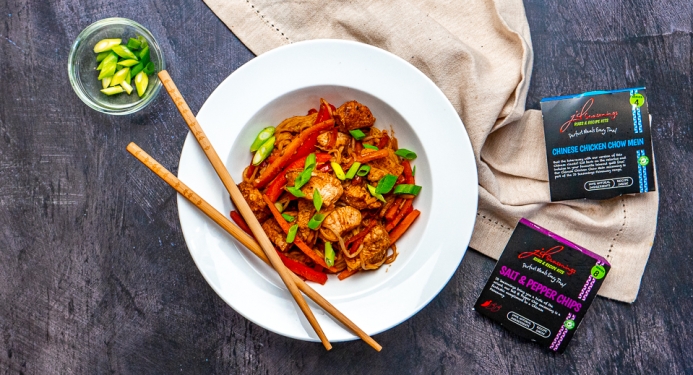 Salt and Pepper Chicken Chow Mein
Prep: 5 mins
Cooking: 25 mins
Total: 30 mins
Serves: 4
Per serving: 476 kcal
Combine our Salt and Pepper Chips and Chicken Chow Mein Kits to heat up your next Chinese-style fakeaway night!
Ingredients
½ x Pot of JD Seasonings Salt and Pepper Chips
½ x Pot of JD Seasonings Chinese Chicken Chow Mein
4 x Chicken breasts, diced
2 x Small carrots, cut into thin strips
180g Beansprouts
2 x Tbsp hoisin sauce
2 x Tbsp dark soy sauce
1 x Tsp grated ginger
3 x Garlic cloves, crushed
1 x Pepper, sliced
2 x Spring onions, sliced
4 x Medium egg noodle nests
Low calorie cooking spray
Method
STEP 1:
Fry the ginger and garlic for 3 minutes in low calorie cooking spray.
STEP 2:
Add in the chicken and Salt and Pepper Chips Kit and fry for a further 10 minutes.
STEP 4:
Add the sliced carrots and peppers for 5 minutes, before adding in the beansprouts for a further 5 minutes, stirring regularly.
STEP 5:
Meanwhile, cook your noodles according to the packet instructions.
STEP 6:
Combine the soy sauce, hoisin sauce and Chinese Chicken Chow Mein kit together.
STEP 7:
Drain your noodles and mix with the chicken and vegetables.
STEP 8:
Pour over the soy sauce mixture and combine until everything is coated. Serve with the spring onion sprinkled on top.
ENJOY!!!