Recipes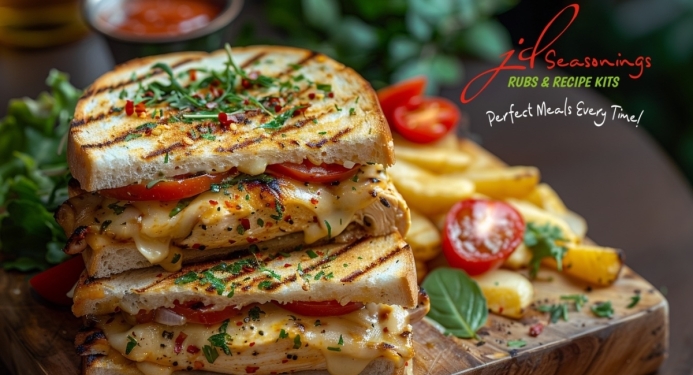 Coronation Chicken Panini
Prep: 10 mins
Cooking: 40 mins
Total: 50 mins
Serves: 4
Per serving: 562 kcal
Our Medium Curry Kit makes this coronation chicken recipe so easy, and it works brilliantly in a toasted panini for a dreamy fall lunch.
Ingredients
1 x Pot of JD Seasonings Medium Curry Kit
2 x Chicken breasts
30g Sultanas
3 x Tbsp fat free Greek yoghurt
4 x Paninis
8 x Reduced fat cheddar slices
2 x Tomatoes, sliced
1 x Green pepper, sliced
2 x Tbsp mango chutney
Low calorie cooking spray
Method
STEP 1:
Pan-fry your chicken breasts for about 7 minutes on each side, in low calorie cooking spray, until cooked through.
STEP 2:
Roughly cut your cooked chicken and add to a large mixing bowl.
STEP 3:
Add in the fat free greek yoghurt, Medium Curry kit and sultanas and mix well.
STEP 4:
Slice your paninis and add the sliced tomato and pepper, followed by the coronation chicken mixture.
STEP 5:
Top with the cheese and mango chutney and pan-fry or grill on both sides, for around 5 minutes, until the bread is toasted and cheese has melted.

ENJOY!!!