Recipes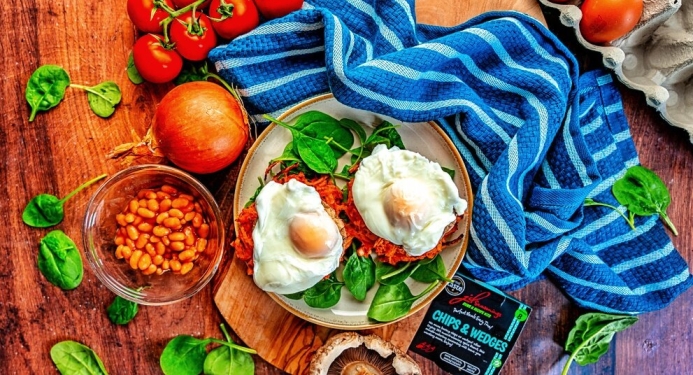 Hash Brown, Portobello & Poached Egg Stacks
Prep: 15 mins
Cooking: 20 mins
Total: 35 mins
Serves: 4
Per serving: 288 kcal
Our homemade hash browns, packed with flavour from our Chips & Wedges Rub, are ideal for a tasty breakfast or brunch, especially stacked with juicy Portobello mushrooms and poached eggs.
Ingredients
1/2 x Pot of JD Seasonings Chips & Wedges Rub
4 x Maris Piper potatoes
1 x Onion, thinly sliced
4 x Portobello mushrooms
5 x Medium eggs
Low calorie cooking spray
Method
STEP 1:
Peel your potatoes and coarsely grate into a clean tea towel. Squeeze and drain the liquid, then chuck your grated potatoes into a bowl.
STEP 2:
Add the onion, beaten egg and chips & wedges rub and mix well.
STEP 3:
Bake the Portobello mushrooms in the oven at 180° for 20 minutes, turning halfway through.
STEP 4:
While the mushrooms are baking, spray a frying pan with low calorie cooking spray. Form the hash brown mixture into circular patties and fry on both sides, for about 5 minutes each, until golden.
STEP 5:
Poach your eggs to your liking.
STEP 6:
Stack your cooked hashbrowns, mushrooms & eggs.
ENJOY!!