Recipes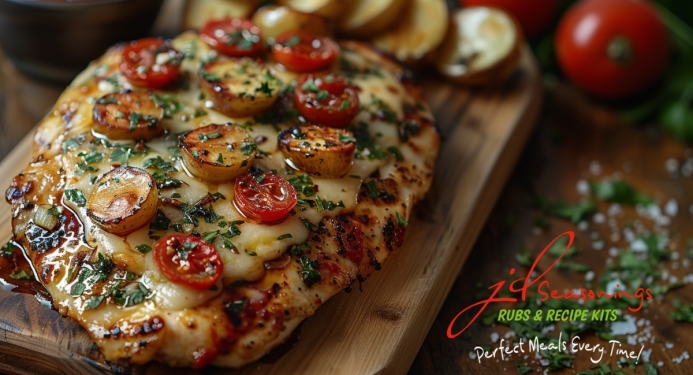 Margherita Pizza Chicken
Prep: 15 mins
Cooking: 25 mins
Total: 40 mins
Serves: 4
Per serving: 234 kcal
If you haven't tried pizza chicken yet, it's a must – especially with our Amatriciana kit for a delicious pizza sauce and our award-winning Chicken Rub to make this classic really stand out!
Ingredients
1/2 x Pot of JD Seasonings Amatriciana Kit
1 x Pot of JD Seasonings Chicken Rub
4 x Chicken breasts
Handful of baby plum tomatoes, halved
120g Reduced fat mozzarella
1 x Tbsp of passata
1 x Tbsp of tomato puree
1 x Splash of balsamic vinegar
1 x Tsp of sweetener
Fresh basil (optional)
Method
STEP 1:
Make four, horizontal slices along each chicken breast, being careful not to cut the wholeway through.
STEP 2:
Coat your chicken breasts in using the full pot of JD Seasonings Chicken Rub.
STEP 3:
Mix the passata, tomato puree, balsamic vinegar and half a pot of JD Seasonings Amatriciana Kit to make your pizza sauce, then spoon a little into each slice of the chicken.
STEP 4:
Next, add your mozzarella to each pocket, followed by a baby plum tomato.
STEP 5:
Pop into an oven-proof dish and bake for around 25 minutes at 200°, until the cheese has melted and chicken has cooked through.
STEP 6:
Serve with whatever you fancy – we recommend chunky chips using our Chips & Wedges Rub and a big salad!
ENJOY!!