Recipes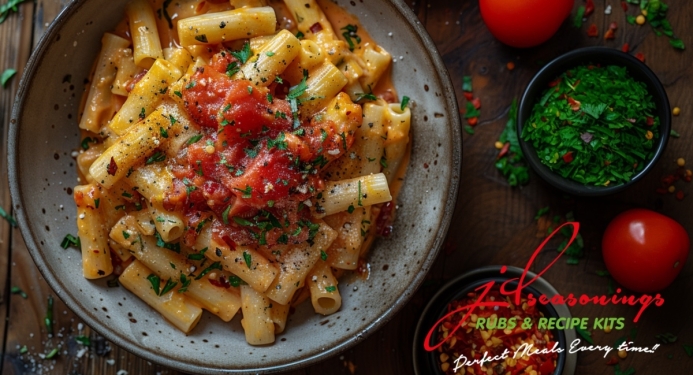 Tomato & Mascarpone Penne Rigate
Prep: 5 mins
Cooking: 45 mins
Total: 50 mins
Serves: 4
Per serving: 512 kcal
Creamy, tomato pasta, made with our Amatriciana Kit, is always a hit and this one is a one-pot AND meat-free meal, too!
Ingredients
1 x Pot of JD Seasonings Amatriciana
60g Parmesan
1 x Onion, diced
100g Baby plum tomatoes, halved
120g Marscapone
40g Baby spinach
1 x Tin of chopped tomatoes
300g Penne Rigate
100g Mushrooms sliced
3 x Garlic cloves, crushed
1 x Tbsp tomato puree
1 x Handful of fresh basil
Low calorie cooking spray
Method
STEP 1:
Fry the garlic and onion in low calorie cooking spray for 5 minutes.
STEP 2:
Add the mushrooms and cook for a further 3 minutes.
STEP 3:
Add the baby plum tomatoes, chopped tomatoes and Amatriciana Kit.
STEP 4:
Stir until well combined, then add the pasta and approx. 600ml water (adjust as needed).
STEP 5:
Simmer for 12-15 minutes, until your pasta has cooked and most of the liquid has been absorbed.
STEP 6:
Add the tomato puree and combine, then throw in the basil and spinach. Cook for 2 minutes, until wilted.
STEP 7:
Reduce the heat and stir in the marscapone until creamy.
STEP 8:
Pile into your bowls, sprinkle over the parmesan and serve.

ENJOY!!