Recipes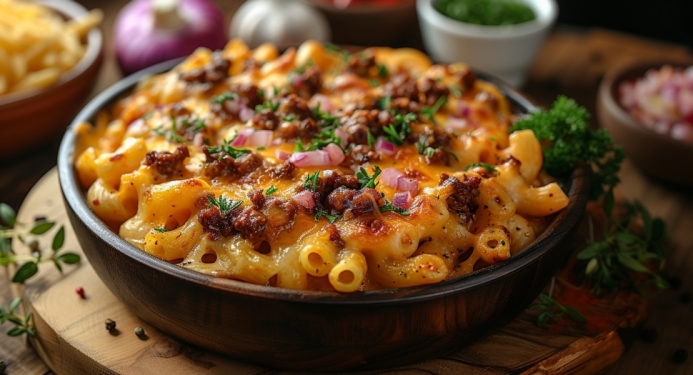 Chilli Mac & Cheese
Prep: 5 Mins
Cooking: 1 Hour 8 mins
Total: 73 Mins
Serves: 4
A tasty meal the whole family can enjoy and very simple to make.
Ingredients
500g mince beef, typically less than 5% fat
500g dried Macaroni
2 onion, peeled and diced
2 red peppers, deseeded and diced
2 400g tinned tomatoes, blitzed with a hand blender or food processor
1 400g tin red kidney beans, washed and drained
1 tbsp tomato puree
120g Cheddar and red Leicester cheese mix, grated
Low calorie cooking spray
Method
STEP 1:
Spray a large non stick frying pan with low calorie cooking spray and place over a medium heat
STEP 2:
Add the onions and fry for 2 minutes, then add the Peppers and cook for further 3 minutes.
STEP 3:
Add the minced beef and continue to cook for 3 minutes. Pour in 1 pot of JD's Chilli con carne blend, mix well and cook until the minced beef has browned
STEP 4:
Pour in the 2 tins of chopped Tomatoes, fill one of the empty tins with water and add to the pan.
STEP 5:
Squeeze in the tomato puree, mix well, cover, turn the heat up to high and bring to the boil then turn the heat down and simmer for 30 minutes
STEP 6 :
Remove the lid, stir in the Kidney beans and cook for a further 30 minutes.
STEP 7:
Cook the Macaroni as to packet instructions, drain and add back to the pan, pour the cooked sauce over and mix well.
STEP 8:
Divide into 4 bowls, sprinkle the grated cheese on top evenly.