Recipes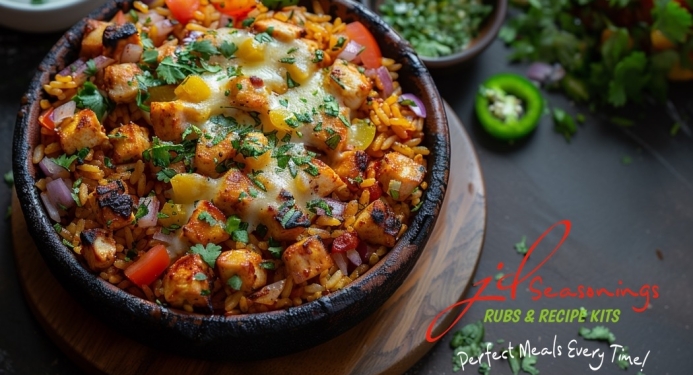 One-pot Chicken Fajita Rice
Prep: 15 mins
Cooking: 40 mins
Total: 55 mins
Serves: 4
Per serving: 592 kcal
We love a one-pot, throw it all together kind of recipe! This one-pot chicken fajita rice, made with our delicious Fajita Kit, is family, budget and student friendly, great for meal prep, and involves very little washing up! Let us know if you enjoy it as much as we do.
Ingredients
1 x Pot of JD Seasonings Fajita Kit
2 x Chicken breasts, diced
1 x Red pepper, diced
1 x Red onion, diced
80g Sweetcorn (can be frozen)
1 x Tin of kidney beans, drained
1 x Tin of chopped tomatoes
500ml of chicken stock
240g Uncooked long grain rice
2 x Spring onion, sliced
80g Red Leicester, grated
60g Reduced fat cheddar, grated
4 x Garlic cloves, crushed
Low calorie cooking spray
Method
STEP 1:
Fry the garlic and red onion for a few minutes in low calorie cooking spray.
STEP 2:
Add in your diced chicken and cook for another 10-15 minutes. Mix in our Fajita Kit and combine well.
STEP 3:
Add in the red pepper and cook for a further 2 minutes.
STEP 4:
Add the long grain rice and mix well, until the grains are fully coated.
STEP 5:
Pour in the kidney beans, sweetcorn, chopped tomatoes and chicken stock. Put the lid on and simmer for 15-20 minutes, stirring regularly, until the rice is cooked and liquid has been absorbed.
STEP 6:
Remove from the heat, add the cheese on top and place the lid back onto the pan for a few minutes to melt the cheese.
STEP 7:
Sprinkle over the spring onion, and serve! This recipe goes beautifully with plenty of salad and a dollop of reduced fat sour cream.
ENJOY!!