Recipes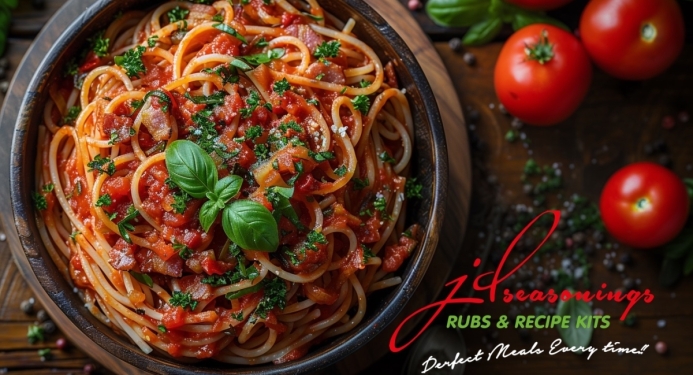 Spaghetti Amatriciana
Prep: 5 mins
Cooking: 40 mins
Total: 45 mins
Serves: 4
Originating from the town of Amatrice (in the mountainous Province of Rieti of Lazio region), the Amatriciana is one of the best known pasta sauces in Roman and Italian cuisine.
Make a classic Italian dish with bacon and tomatoes mixed with JD's unique herb blend…it's sure to satisfy!
Ingredients
500gm dried spaghetti
1 onion, peeled and roughly chopped
8 smoky bacon rashers, all fat removed
2 x 400gm tinned chopped tomatoes
Low calorie cooking spray
Method
STEP 1:
Spray a large non stick frying pan with low calorie cooking spray and place over a medium heat.
STEP 2:
Add the onions and fry for 2-3 minutes.
STEP 3:
Next, add the bacon and cook for another 5 minutes, mixing occasionally.
STEP 4:
Add 1 pot of JD's Amatriciana blend, mix and pour in the tinned tomatoes.
STEP 5:
Fill 1 of the empty tins about half way with water and add to the sauce. Mix well, turn up the heat and bring to the boil. Turn down and simmer for 30 minutes stirring occasionally.
STEP 6:
Add a little more water during cooking if sauce thickens too much.
STEP 7:
Add salt to taste.
STEP 8:
Meanwhile, cook the spaghetti as to packet instructions. Drain and return to the pot. Pour over the sauce, mix well and serve.