Recipes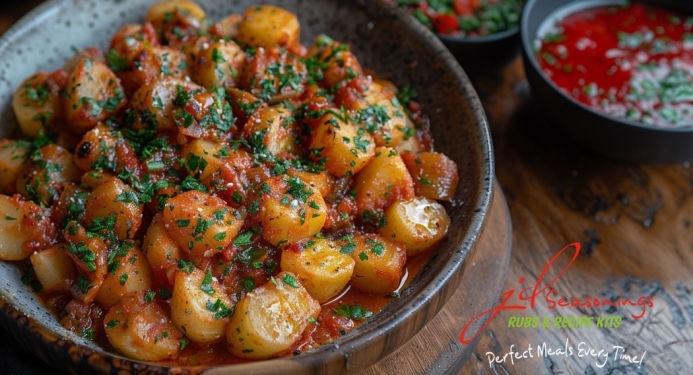 Patatas Bravas
Prep: 15 mins
Cooking: 50 mins
Total: 65 mins
Serves: 4
Per serving: 196 kcal
Patatas Bravas are so simple to make and make such a nice addition on the dinner table. You could even throw a tapas night using them! We've used both our Chips & Wedges Rub and Piri Piri Rub in this recipe.
Method
STEP 1:
Once your potatoes are diced, spray well with low calorie cooking spray and coat in the full pot of JD Seasonings Chips & Wedges. Shake well and transfer to an oven-proof dish, spray with more cooking spray and bake for around 50 minutes (make sure you check and re-spray at regular intervals).
STEP 2:
While your potatoes are cooking, make your spicy tomato sauce by frying off diced onion and garlic until softened.
STEP 3:
Pour in your chopped tomatoes and add in the sweetener and half a pot of JD Seasonings Piri Piri. Mix well and simmer for 15 minutes or so, until thickened.
STEP 4:
Once your potatoes have cooked, pour over the tomato sauce and serve with a sprinkle of parsley on top.
ENJOY!!