Recipes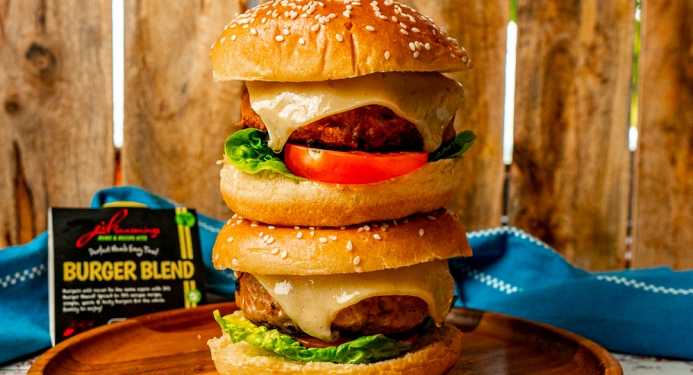 Pork, Apple & Cheddar Burgers
Prep: 10 mins
Cooking: 20 mins
Total: 30 mins
Serves: 4
Per serving: 479 kcal
Try these tasty pork, apple & cheddar burgers, made with our Burger Blend, for something a little bit different!
Ingredients
1 x Pot of JD Seasonings Burger Blend
500g Lean pork mince (less than 5% fat)
1 x Dessert apple, grated
1 x Beaten egg
1 x Spring onion, sliced
25g Plain breadcrumbs
4 x Brioche Buns
4 x Reduced fat cheddar slices
Lettuce
1 x Tomato, sliced
Method
STEP 1:
Grate your apple and combine with the breadcrumbs and full pot of JD Seasonings Burger Blend, and mix well. Allow the breadcrumbs to soak up some of the moisture from the apple.
STEP 2:
Add in your egg and combine with the breadcrumb mixture.
STEP 3:
Next, add in your pork mince and gently combine with the rest of the ingredients before moulding into four burger patties.
STEP 4:
Fry in low calorie cooking spray on both sides, until cooked through (approximately 10 minutes per side).
STEP 5:
Add a slice of cheddar on top of each burger while still in the pan and allow to melt for 1-2 minutes.
STEP 6:
Pile into your brioche buns along with the lettuce and tomato.
ENJOY!!