Recipes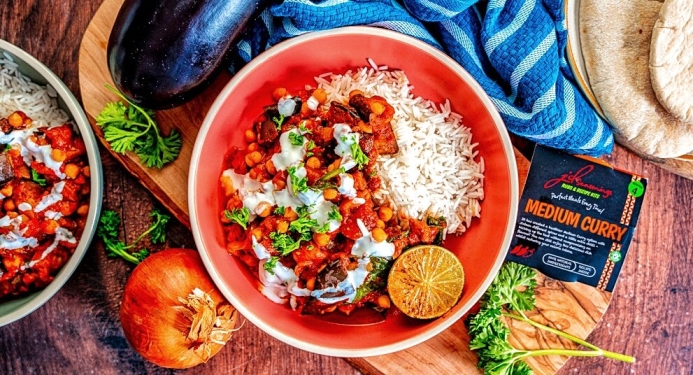 Roasted Aubergine & Chickpea Curry
Prep: 10 mins
Cooking: 45 mins
Total: 55 mins
Serves: 4
Per serving: 155 kcal
This Vegan-classic is so simple to make and full of flavour, using our Medium Curry Kit. If you're looking for something low-calorie that the whole family will enjoy, this is definitely a recipe to try.
Ingredients
1 x Pot of JD Seasonings Medium Curry Kit
2 x Aubergines, cut into 2 inch segments
1 x Onion, diced
4 x Garlic cloves, crushed
1 x Tin of chickpeas, drained
2 x Tins of chopped tomatoes
40g Baby spinach
Vegetable stock cube
1 x Tbsp fat free greek yoghurt (optional, to serve
)Low calorie cooking spray
Method
STEP 1:
Spray the aubergine with low calorie cooking spray, season with salt and pepper an roast for 20 minutes at 180°, turning every few minutes.
STEP 2:
Fry the onion and garlic in low calorie cooking spray for 5 minutes, until softened.
STEP 3:
Add in the roasted aubergine and Medium Curry Kit, and mix well.
STEP 4:
Pour in the chopped tomatoes, chickpeas and stock cube and simmer for around 20 minutes, until thickened.
STEP 5:
Add the spinach and cook for a further 5 minutes, until the spinach has wilted.
STEP 6:
Add a drizzle of fat free greek yoghurt, if desired, and serve.
ENJOY!!