Recipes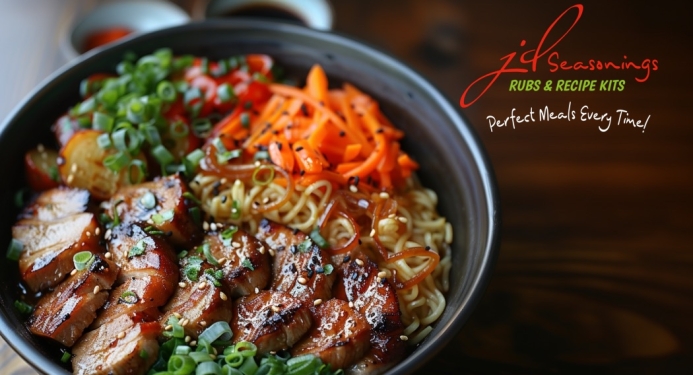 Char Sui Chow Mein
Prep: 10 mins
Cooking: 25 mins
Total: 35 mins
Serves: 4
Per serving: 723 kcal
If you've tried making our BBQ Char Sui Pork, this delicious chow mein is a great way to use it, made with our Chinese Chicken Chow Mein Kit.
Ingredients
1 x Pot of JD Seasonings Chinese Chicken Chow Mein
1kg x Leftover BBQ Char Sui Pork (check out our BBQ Char Sui Pork recipe for details),
chopped
4 x Medium egg noodle nests
1 x Large carrot, sliced into julienne strips
225g x Beansprouts
1 x Tsp crushed ginger
1 x Tbsp rice wine vinegar
1 x Red pepper, thinly sliced
4 x Garlic cloves, crushed
8 x Spring onions, sliced diagonally
5 x Tbsp dark soy sauce
4 x Tbsp light soy sauce
160g x Shiitake mushrooms, sliced
Low calorie cooking spray
Method
STEP 1:
Combine the dark soy sauce, light soy sauce and our Chinese Chicken Chow Mein Kit and set aside.
STEP 2:
In low calorie cooking spray, pan-fry the garlic and ginger for 3 minutes, then add in the carrot, bamboo shoots, pepper, most of the spring onion and bamboo shoots and fry for a further 6-8 minutes.
STEP 3:
Meanwhile, cook the noodles according to the packet instructions.
STEP 4:
Add the leftover char sui pork to the pan and continue to fry until heated through (approx. 3-5 minutes).
STEP 5:
While the char sui is cooking, drain the noodles then add them to the pan with the rest of your chow mein.
STEP 6:
Pour over the soy sauce mixture and mix until everything is coated. Transfer to four bowls, sprinkle over the reserved spring onion and…
ENJOY!!!