Recipes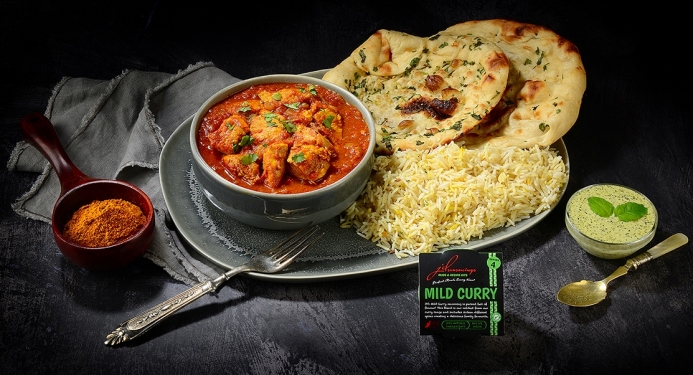 Mild Chicken Curry
Prep: 5 mins
Cooking: 30 - 40 mins
Total: 45 mins
Serves: 4
Our specially mixed curry powder is a an exciting blend of 15 herbs and spices Paprika, Garam masala, Cumin, Salt, Black pepper, Chilli, Fennel, Onion powder, Cinnamon, Fenugreek, Coriander, Cardamon, Garlic granules and can be used to make easy curries and as a flavouring for a variety of Indian dishes. Nice and mild for those that love a curry but without the heat.
Ingredients
600gm chicken breast, all visible fat removed & cut into bite size pieces
1 large onion, peeled and roughly chopped
3 garlic cloves, peeled and crushed
1″ cube fresh ginger, finely chopped
400g tinned chopped tomatoes, blitzed with a hand blender / food processor
300ml water
Low calorie cooking spray
Fresh coriander to garnish (optional)
Method
STEP 1:
Spray a large non stick frying pan with low calorie cooking spray and place over medium heat, add onions and fry for 3-4 mins.
STEP 2:
Pop the chicken, garlic and ginger in with the onions and cook for a further 2 minutes, stirring often.
STEP 3:
Add 1 pot of JD's Mild Curry Blend and cook for 3 mins, mixing well.
STEP 4:
Add the tinned chopped tomatoes and the water, turn the heat up and bring to the boil.
STEP 5:
Once at the boil, turn heat down to low/medium and simmer for 25-30 mins until sauce has thickened.
ENJOY!