Recipes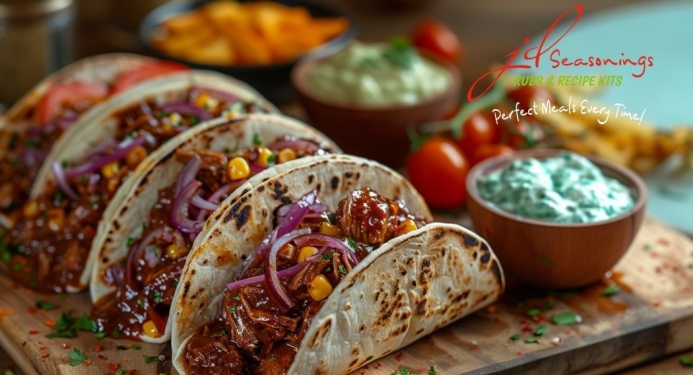 Maple BBQ Pulled Pork Tacos
Prep: 10 mins
Cooking: 480 mins
Total: 490 mins
Serves: 4
Per serving: 565 kcal
These Maple BBQ Pulled Pork Tacos are a must-try! Made with our BBQ rub and popped in the slow-cooker, this delicious taco-filling is so simple to make.
Ingredients
1 x Pot of JD Seasonings BBQ Rub
1 x Pork loin joint, visible fat removed
1 x Tsp balsamic vinegar
1 x Tsp dark soy sauce
1 x Tbsp maple syrup
1 x Tbsp sweetener
Mini tortillas/taco shells
100g Lettuce, shredded
60g Cucumber, sliced
50g Baby plum tomatoes, quartered
2 x Spring onions, sliced
60g Red Leicester, grated
400g Passata
Method
STEP 1:
Place the pork in the slow cooker, then pour over the passata, sweetener, maple syrup, soy sauce, balsamic vinegar and BBQ rub and mix well.
STEP 2:
Cook on high for 4 hours or low for 8 hours.
Once done, shred the pork using two forks and mix well with the BBQ sauce until fully coated.
STEP 4:
Place the mini tortillas upside down over a grill and pop into the oven for 5 minutes to crisp and form taco shells, or you can use store-bought crunchy taco shells.
STEP 5:
Add the lettuce, cucumber and tomato to your taco shells. Top with the pulled pork, cheese and spring onion, and serve.
ENJOY!!!