Recipes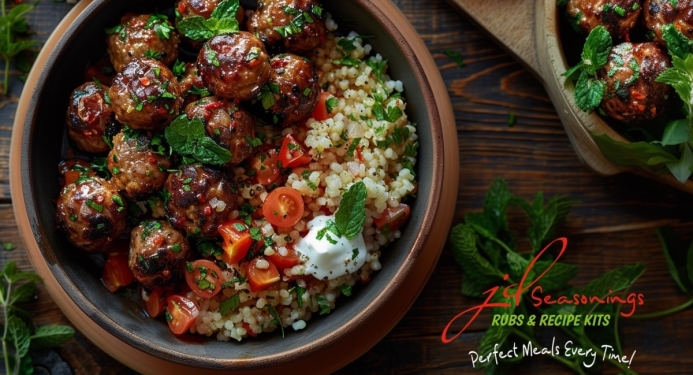 Minted Lamb Meatballs with Garlic Yoghurt & Cous Cous
Prep: 15 mins
Cooking: 30 mins
Total: 45 mins
Serves: 4
Per serving: 609 kcal
These tasty meatballs are perfect for the Summer, made with our Minted Lamb Rub and served with light cous cous and zingy garlic yoghurt.
Ingredients
1 x Pot of JD Seasonings Minted Lamb Rub
500g Lean lamb mince
1 x Beaten egg
1 x Onion, finely diced
120g Reduced fat feta
4 x Garlic cloves, crushed
6 x Tbsp fat free greek yoghurt
Cucumber
1/2 x Lemon (juice)


Method
STEP 1:
Mix the lamb mince with diced onion, full pot of JD Seasonings Minted Lamb Rub, beaten egg and half the crushed garlic.
STEP 2:
Split into sixteen equal portions and roll into ball shapes. Refrigerate for 30 minutes or so.
STEP 3:
Move your meatballs onto an oven-proof dish lined with baking paper and bake at 180° for 25-30 minutes, turning halfway, until cooked through.
STEP 4:
Make your cous cous according to the packet instructions.
STEP 5:
Mix the remaining garlic with your fat free yoghurt and the juice of ½ a lemon. Mix well and add on top of the cous cous.
STEP 6:
Add your cooked meatballs and sliced cucumber on top, along with a little parsley (optional) and serve.
ENJOY!!