Recipes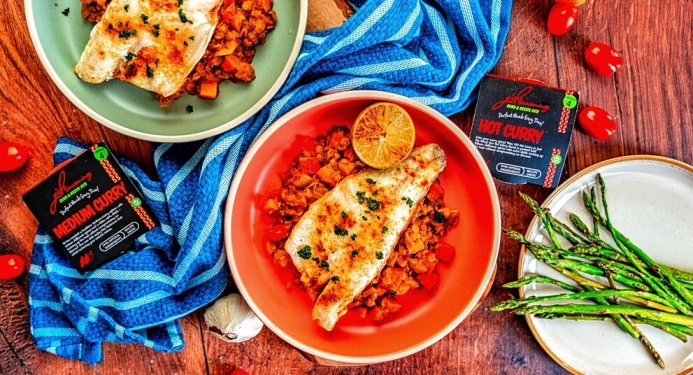 Spiced Seabass & Lentils
Prep: 5 mins
Cooking: 30 mins
Total: 35 mins
Serves: 4
Per serving: 308 kcal
A super-filling breakfast fakeaway, made with our Amatriciana Kit.
Ingredients
1 x Pot of JD Seasonings Medium Curry Kit
½ x Pot of JD Seasonings Hot Curry Kit
4 x Boneless seabass fillets
½ x Brown onion, finely diced
3 x Garlic cloves, crushed
1 x Medium carrot, finely diced
1 x Red pepper, chopped
1 x Tsp garlic, finely chopped
100g Baby plum tomatoes, chopped
120g Red lentils
250ml Vegetable stock
Low calorie cooking spray
Method
STEP 1:
Coat the seabass fillets in the Hot Curry kit and set aside.

STEP 2:
Fry the onion in low calorie cooking spray for around 3 minutes, until softened.
STEP 3:
Add the garlic and ginger and fry for another 4-5 minutes.
STEP 4:
Throw in the carrot, red pepper and tomatoes and fry for another 5 minutes, stirring regularly.
STEP 5:
Add in the red lentils and Medium Curry Kit and stir well until combined.
STEP 6:
Pour in the vegetable stock and simmer for 15-20 minutes, until the lentils have cooked.
STEP 7:
In a separate pan, add some more low calorie cooking spray. Once the pan is hot, cook the seabass fillets (skin-side down) for around 5 minutes, until cooked through.
STEP 8:
Add the seabass fillets on top of your lentils and serve with lime, if desired.
ENJOY!!