Recipes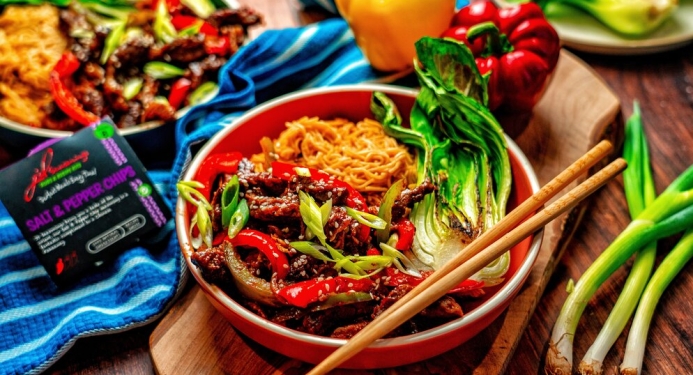 Salt and Pepper Crispy Chilli Beef
Prep: 5 mins
Cooking: 45 mins
Total: 50 mins
Serves: 4
Per serving: 279 kcal
This must-try fakeaway uses our Salt and Pepper Chips Rub and tastes even better than the real deal (if we say so ourselves) and works great with rice, noodles or even more salt and pepper chips!
Ingredients
1 x Pot of JD Seasonings Salt and Pepper Chips Rub
4 x Tbsp cornflour
2 x Tbsp tomato ketchup
1 x Tbsp tomato puree
2 x Tbsp sweet chilli sauce
2 x Tbsp sugar
1 x Pepper, thinly sliced
1 x Onion, thinly sliced
3 x Garlic cloves, crushed
1 x Small egg
2 x Tbsp dark soy sauce
1 x Tbsp light soy sauce
400g x Lean sliced beef strips
Low calorie cooking spray
Method
STEP 1:
Pour the beaten egg over the beef strips and mix well.
STEP 2:
Next, mix the cornflour and Salt and Pepper Chips Rub together, then pour over the beef too. Stir well until gooey and all the strips are coated.
STEP 3:
In low calorie cooking spray, fry the beef strips in batches for around 6 minutes, turning halfway through, until crispy.
STEP 4:
Transfer to a bowl lined with kitchen roll and continue to fry in batches, until all the beef has cooked.
STEP 5:
Spray the pan with more low calorie cooking spray and fry the sliced onion and pepper for 5 minutes.
STEP 6:
Combine the tomato ketchup, tomato puree, sugar, garlic, soy sauce and sweet chilli sauce.
STEP 7:
Cook for 5 minutes then add the beef strips back in and cook for 5 minutes, until hot and sticky.
ENJOY!!