Recipes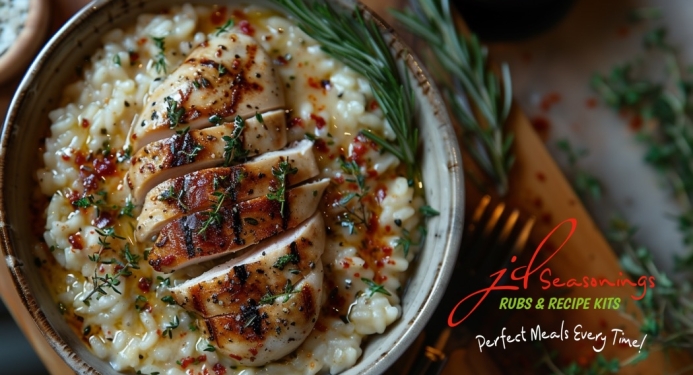 Italian Chicken Risotto
Prep: 10 mins
Cooking: 60 mins
Total: 70 mins
Serves: 4
Per serving: 607 kcal
This dish is pure comfort food, really filling and makes a wonderful dinner for date night, a family meal or dinner party! Made with our Amatriciana Kit and award-winning Chicken Rub.
Ingredients
1 x Pot of JD Seasonings Chicken Rub
1 x Pot of JD Seasonings Amatriciana
4 x Chicken breasts
1 x Onion, diced
150g Mushrooms, chopped
4 x Garlic cloves, crushed
60g Parmesan
400g Arborio rice
100g Baby plum tomatoes, halved
1 & ½ Litres of chicken stock
100g Rocket
Low calorie cooking spray
Method
STEP 1:
Coat your chicken breasts in the Chicken Rub and set aside.
STEP 2:
Next, fry the onion in low calorie cooking spray for 5 minutes.
STEP 3:
Add in the garlic and cook for a further 3 minutes, followed by the mushrooms.
STEP 4:
Meanwhile, make up your chicken stock.
STEP 5:
Continue to cook the mushrooms for 5 minutes. Add in the Arborio rice, followed by the Amatriciana Kit and mix well.
STEP 6:
Cook for 2-3 minutes, until the rice starts to turn transparent around the edges.
STEP 7:
Add in the tomatoes and mix well, then start to spoon in the stock until the rice is covered.
STEP 8:
Simmer, stirring regularly, until all the liquid has absorbed. Repeat until the rice is cooked through.
STEP 9:
Add in the parmesan and mix well.
STEP 10:
Meanwhile, pan-fry your chicken breasts for 7-8 minutes on each side, until cooked through.
STEP 11:
Add your risotto to four bowls. Add some of the rocket on top, followed by your sliced chicken breasts, and serve.
ENJOY!!!