Recipes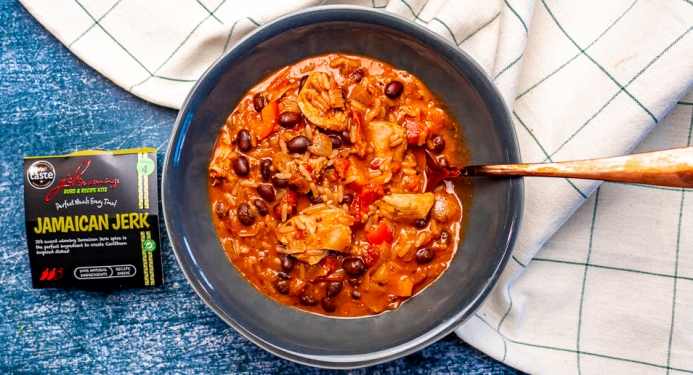 Jerk Chicken Soup
Prep: 10 mins
Cooking: 55 mins
Total: 65 mins
Serves: 4
Per serving: 354 kcal
Spicy, filling chicken soup is such a comfort food, made with our Jamaican Jerk


Ingredients
1 x Pot of JD Seasonings Jamaican Jerk
2 x Chicken breasts, diced
120g Uncooked long grain rice
1 x Tin of black beans, drained
1 x Tin of chopped tomatoes
1 x Onion, diced
3 x Garlic cloves, crushed
150ml Coconut milk
750ml x Chicken stock
1 x Red pepper, diced
Low calorie cooking spray
Method
STEP 1:
Fry the garlic and onion in low calorie cooking spray for 5 minutes.
STEP 2:
Add the chicken and cook for around 15 minutes, until cooked through.
STEP 3:
Add in the red pepper, black beans and rice, followed by our Jamaican Jerk Kit.
STEP 4:
Combine until everything is coated and pour over the stock and chopped tomatoes.
STEP 5:
Simmer for 25 minutes, until the rice has cooked through.
STEP 6:
Reduce to a low heat, pour in the coconut milk and stir well.
STEP 7:
Divide into your bowls and serve.

ENJOY!!