Recipes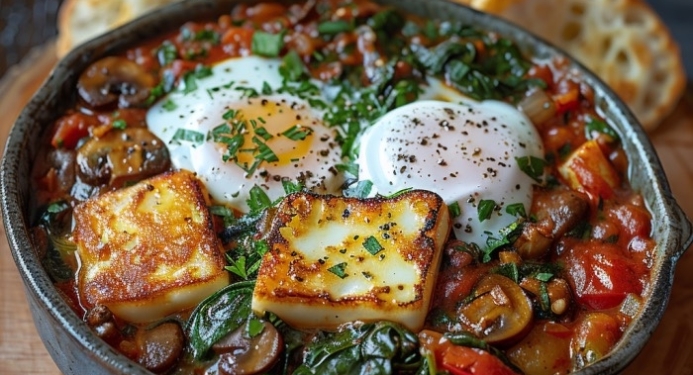 Halloumi Shakshuka
Prep: 10 mins
Cooking: 20 mins
Total: 30 mins
Serves: 4
Per serving: 274 kcal
Our Amatriciana Kit goes wonderfully with this halloumi shakshuka – such a tasty breakfast and packed with veggies too!
Ingredients
1/2 x Pot of JD Seasonings Amatriciana Kit
180g Reduced fat halloumi
2 x Tins of chopped tomatoes
4 x Eggs
50g Baby spinach
1 x Brown onion, diced
2 x Garlic cloves, crushed
60g Cherry tomatoes
100g Button mushrooms, chopped
Low calorie cooking spray
Method
STEP 1:
Fry off the garlic, mushrooms and onion in low calorie cooking spray, until softened.
STEP 2:
Add the cherry tomatoes and mushrooms and cook for another 3-5 minutes before adding in JD Seasonings Amatriciana kit.
STEP 3:
Mix well then pour in the chopped tomatoes and spinach and stir, cooking until wilted.
STEP 4:
Make four wells in the tomato mixture and crack your eggs into them. Cover and cook for about 5 minutes, or until the eggs are cooked to your liking.
ENJOY!!