Recipes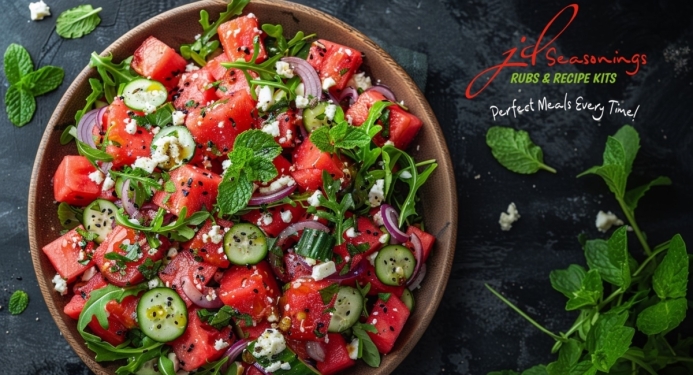 Watermelon Mint And Feta Salad
Prep: 20 mins
Cooking: 0 mins
Total: 20 mins
Serves: 4
Per serving: 370 kcal
For those hot Summer days, check out our watermelon, mint and feta salad using our versatile Pea & Mint Risotto kit. With no cooking involved, so no need to stand in front of a hot stove, this gorgeous salad is zingy, refreshing and low calorie – definitely one to add to your next meal plan!
Ingredients
1/2 x Pot of JD Seasonings Pea & Mint Risotto Kit
1 x Watermelon, cut into chunks
60g Reduced fat feta cheese
120g Rocket or mixed leaves
80g Edamame beans
Cucumber, chopped
Red onion, sliced
4 x Tsp of extra virgin olive oil
2 x Tsp of balsamic vinegar
Method
STEP 1:
Chop your watermelon into chunks and prep your salad.

STEP 2:
Combine the olive oil, balsamic vinegar and half a pot of JD Seasonings Pea & Mint Risotto Kit to create a gorgeous salad dressing.

STEP 3:
Load everything into a bowl and drizzle over the mint dressing – so simple but truly delicious!

ENJOY!!