Recipes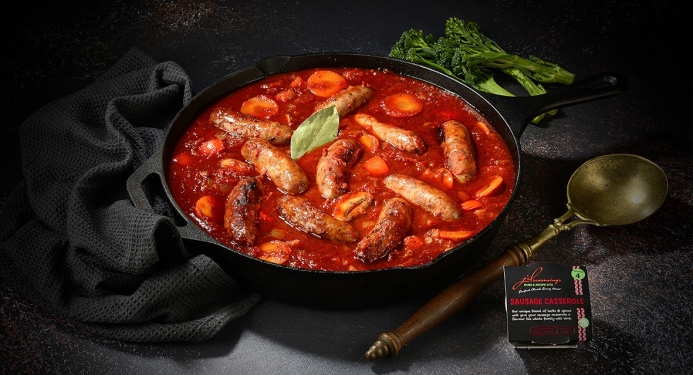 Sausage Casserole
Prep: 10 mins
Cooking: 40 mins
Total: 50 mins
Serves: 4
A delicious recipe for an English classic. Best served with potatoes and seasonal vegetables.
Ingredients
750g (8 to 10) sausages, Typically less than 5% fat
1 carrot, thinly sliced
1 onion, sliced
150g Mushrooms, sliced
1 red pepper, deseeded and sliced
1 x 400g chopped tinned tomatoes (blended)
1 tbsp Worcestershire sauce
400ml Water
Low calorie cooking spray
Method
STEP 1:
Preheat oven to 200°c
STEP 2:
Spray a frying pan with low calorie cooking spray and place over a low to medium heat.
STEP 3:
Add the sausages and cook until browned on all sides then pop them into an ovenproof dish.
STEP 4:
Gently fry the onions and carrots til soft then transfer to the ovenproof dish.
STEP 5:
Add the peppers, mushrooms, blended tomatoes and Worcestershire sauce to the dish.
STEP 6:
Mix the pot of jd seasonings sausage casserole with the water, pour into the ovenproof dish and mix all the ingredients together.
DO NOT COVER
STEP 7:
Cook in the center of the oven for 40 minutes.
STEP 8:
Serve with potatoes and seasonal veg
Enjoy !