Recipes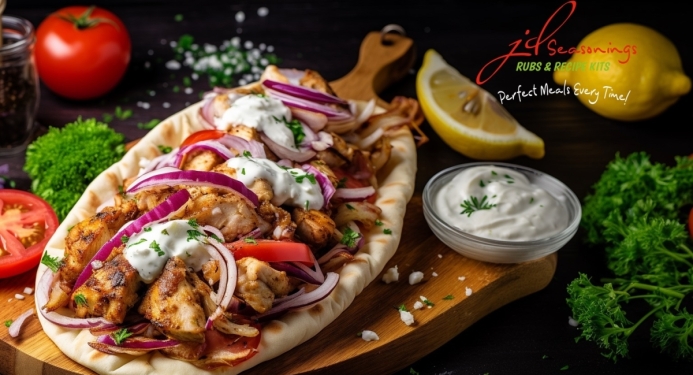 Gyros Kebab
Prep:
Cooking:
Total:
Serves:
Street food at possibly its best!
JD Seasonings brings this famous Greek favourite to your kitchen with this perfectly balanced seasoning and using lean cuts of meat you can tuck into! We highly recommend using JD's Recipe. ENJOY!
Ingredients
1 pot of JD Seasonings Gyros Kebab

3 large chicken breasts, all fat removed

2 large potatoes, peeled and cut into 1cm thick chips 1/2 an iceberg lettuce, finely shredded

2 tomatoes, diced

1/4 Cucumber, diced

1 lemon

200g fat free Greek yogurt

4 wraps or some baby gem lettuce leaves for a lighter alternative

Low calorie cooking spray

Small bunch of Mint (about 20 leaves), finely chopped
Method
STEP1.
Lay the chicken breasts flat on a chopping board then slice the chicken in half, horizontally, to form 2 breasts, (like slicing a burger bun) and place into a large bowl.
STEP 2.
Add the pot of JD Seasonings Gyros Kebab evenly to the chicken and rub in well.
Add HALF of the juice from the lemon and continue to rub into the chicken.
Now add ONLY 50g of the fat free yogurt and coat the chicken evenly, cover and place into the fridge for at least an hour, preferably marinate overnight but not essential.
STEP 3.
Meanwhile, to make a simple Tzatziki Sauce add the remaining 150g of fat free Greek yogurt to a bowl, add the diced cucumber, mint and a small squeeze of lemon juice and mix well, cover with cling film and pop into the fridge.
If using wooden skewers soak them in water for 30 minutes before using to prevent them from burning.
STEP 4.
Remove the marinated chicken from the fridge. Take a piece of chicken, fold in half and place onto 2 skewers (leave about an inch between the skewers, this will make it easier to turn the chicken) and continue to add the chicken until half of the chicken is left then take another 2 skewers and repeat.
STEP 5.
Place the skewers onto a baking tray leaving the ends of the skewers on the rim so the chicken isn't touching the baking tray. Place in a preheated oven 190°c gas mark 5 and cook for 40 minutes or until the chicken is completely cooked through, turning 2 or 3 times during cooking.
STEP 6.
Peel the potatoes and cut into 1cm thick chips.
STEP 7.
Spray a baking tray with low calorie cooking spray and spread the chips out making
sure to leave a small gap between each chip for even cooking. Place in a preheated oven 190°c gas mark 5 for 30 minutes or until cooked and golden– turning once mid-way through cooking.
STEP 8.
Heat the wraps as to packet instructions. Take the chicken out from the oven and carefully remove from the skewers and slice.
ENJOY!!